This game was released on August 09, 2016 and is no longer available to pre-order. Any incentives that were offered are listed below.
No Man's Sky is a space adventure game developed by indie studio Hello Games and published by Sony (PS4) and iam8bit (PC). It gives a whole new meaning to the phrase "open world", featuring an effectively infinite, procedurally-generated universe with billions of star systems. Players can explore the galaxy on their spaceship, land on planets, discover new forms of flora and fauna, and fight or trade with various NPC factions. The ultimate goal is journeying towards the center of the galaxy, but the increasingly hostile environments will require upgrades to the player's ship, space suit, and multi-tool.
As all the planets are generated on-the-fly, the game can be played offline. However, No Man's Sky does have some multiplayer elements, such as crediting the first player to discover a certain planet or a lifeform.
Pre-order bonuses
Here is a list of the available pre-order bonuses for No Man's Sky. These will help kickstart your adventure with a hyperdrive-equipped ship, and more.
GameStop (physical, PS4): early access to a Rezosu Z65 multi-tool, upgraded Alpha Vector ship, and 10,000 in-game currency units that can be used for purchasing faster ships and better weapons.
Other retailers (physical, PS4): Alpha Vector ship alone.
PlayStation Store (digital, PS4): a bundle of 10 PSN Avatars.
Steam / GOG / Humble Store (digital, PC): Horizon Omega ship equipped with an upgraded hyperdrive and increased firepower.
The game is also available in two special editions.
Limited Edition (PS4)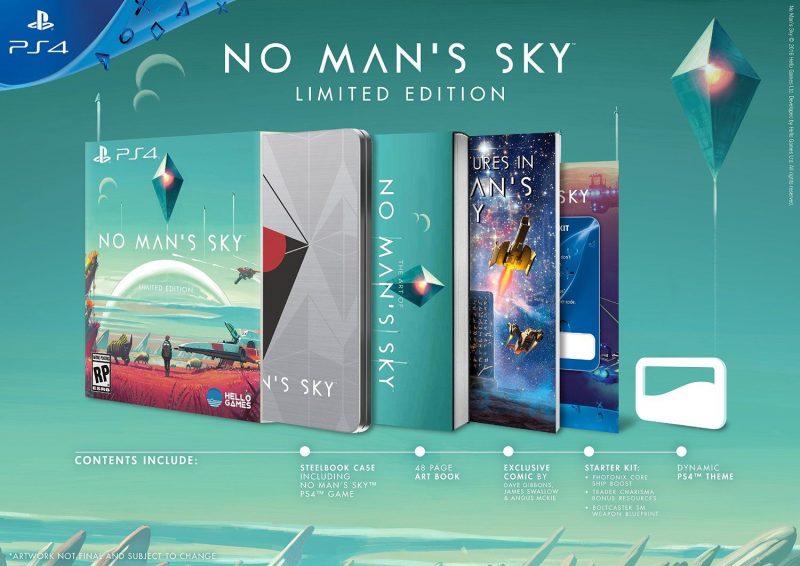 The Limited Edition for PlayStation 4 costs $79.99 and includes the following extras:
SteelBook case
48-page art book
"Adventures in No Man's Sky" comic with contributions from Watchmen co-creator Dave Gibbons, Deus Ex: Human Revolution and Star Trek: Titan writer James Swallow, and sci-fi illustrator Angus McKie
PS4 Dynamic Theme
In-game starter kit:

Photonix Core (ship boost)
Trader Charisma (bonus resources)
BoltCaster SM (weapon blueprint)
This edition should be available at most retailers.
Explorer's Edition (PC)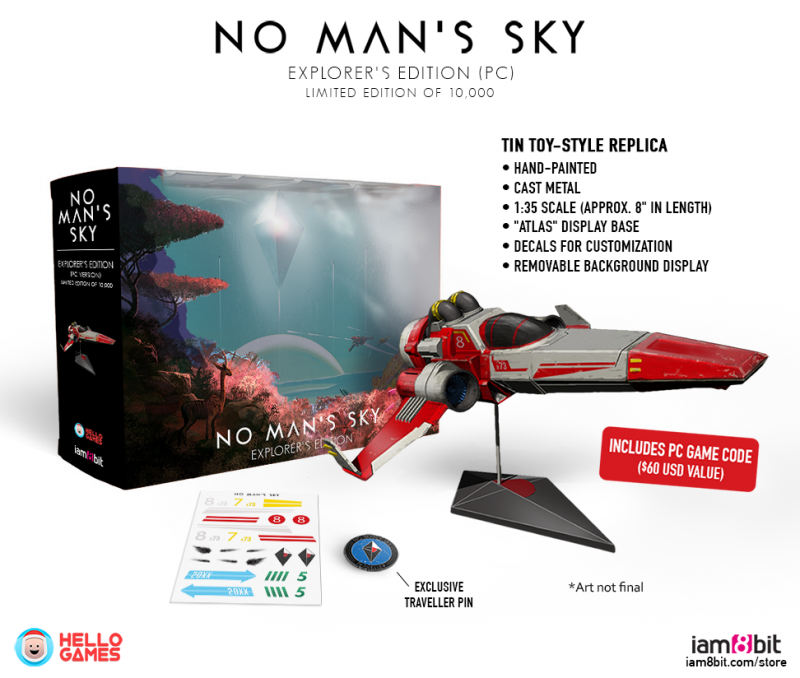 The Explorer's Edition for PC is a lot pricier ($149.99), but comes with some impressive collectibles. It includes a game code for Steam or GOG, plus these:
Hand-painted, cast metal Ship Replica (1:35 scale) with decals for customization
Hard-enamel Traveller Pin
Diorama Display Backdrop
A Rad Box
Mystery Item (to be revealed at launch)
Only 10,000 units of this edition were manufactured, and it is available exclusively on the iam8bit store.
Gameplay trailer
After being delayed for some "extra polish", No Man's Sky will now reach PlayStation 4 on August 9th, and PC on August 12, 2016.
Check out our other upcoming adventure games and upcoming pc games.