This game was released on July 12, 2011 and is no longer available to pre-order. Any incentives that were offered are listed below.
Bethesda has announced that they will be releasing a special edition of The Elder Scrolls IV: Oblivion to mark the game's fifth anniversary. This is an excellent chance to give Oblivion or its expansions a try if you haven't played them before. It is going to be re-released in a sweet SteelBook package and will include the following goodies:
Oblivion GotY edition (comes with both Knights of the Nine and Shivering Isles expansions)
A full-color map of Cyrodiil and the Shivering Isles (from the Collector's Edition)
A bonus making-of DVD (from the CE as well) with added Skyrim trailer
A $10 discount coupon for Elder Scrolls V: Skyrim (coming out 11/11/11) – probably the best part of the package, and according to NitroBeard.com, it's redeemable at any retailer in the US.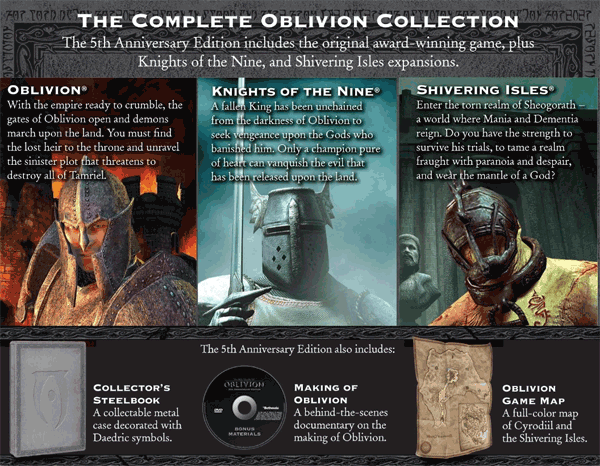 Word is, only 200,000 copies of Oblivion 5th Anniversary Edition will be available, so it might be wise to pre-order it before the launch. This edition of the game will only cost $30 and is currently available for preorder online at Gamestop, Overstock and Amazon.
Check out our other upcoming rpg games and upcoming pc games.