This game was released on March 27, 2020 and is no longer available to pre-order. Any incentives that were offered are listed below.
One Piece: Pirate Warriors 4 is an action-adventure game from Omega Force that follows Luffy and the Straw Hat pirates from the beginning of their journey to find the titular legendary treasure. Moreover, it includes an original retelling of the Wano Country arc currently ongoing in the anime series.
Pirate Warriors 4 features a cast of over 40 playable characters, including fan-favorites like Luffy, Zoro, Nami, Usopp, and others. The game boasts large-scale Musou style battles that the developer is renowned for, destructible environments, and many iconic moments from the anime and manga in a new medium. Also new is the ability to execute attacks mid-air, which will be available to all characters. The game can be tackled solo or with a friend offline, and in a co-op of up to four players online. The online co-op offers exclusive missions.
Pre-order Bonuses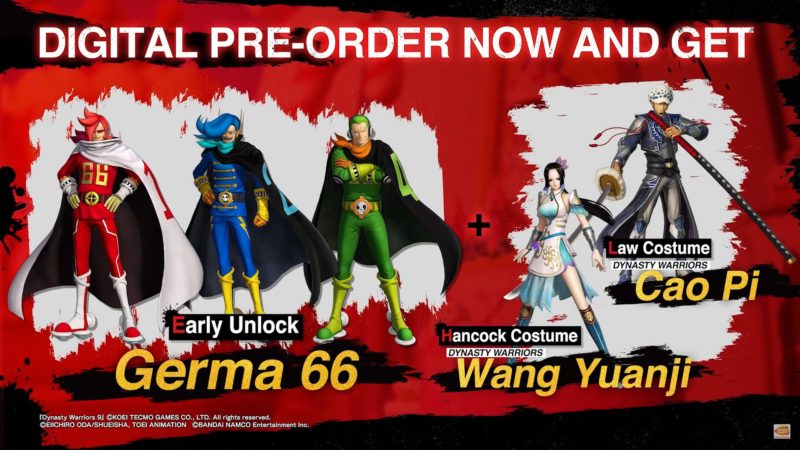 Pre-order One Piece: Pirate Warriors 4 to receive the following in-game bonuses:
Vinsmoke Brothers Early Unlock
Dynasty Warriors Law Costume
Dynasty Warriors Hancock Costume
Deluxe Edition ($89.99)
On top of the base game, the Deluxe Edition adds a Character Pass with 9 new characters and a bonus Charlotte Katakuri Early Unlock. PlayStation 4 gamers additionally get an exclusive theme.
One Piece: Pirate Warriors 4 is scheduled to launch in the West on March 27, 2020. The game will be out on Xbox One, PlayStation 4, Nintendo Switch, and PC via Steam.
Check out our other upcoming action games and upcoming nintendo switch games.