This game was released on June 05, 2018 and is no longer available to pre-order. Any incentives that were offered are listed below.
Onrush is an arcade racing game developed by Codemasters and published by Deep Silver. Described by the developer as a game with no finish line, it is said to be all about style, flair, and taking down your opponents by slamming into them at breakneck speed. And in case a player is taken out, they can respawn right in the middle of the action.
A total of four gameplay modes are included in Onrush: Overdrive, Switch, Countdown, and Lockdown, which feature different mechanics and victory conditions. Online multiplayer supports up to 12 people in competitive 6v6 mode.
Pre-order Bonuses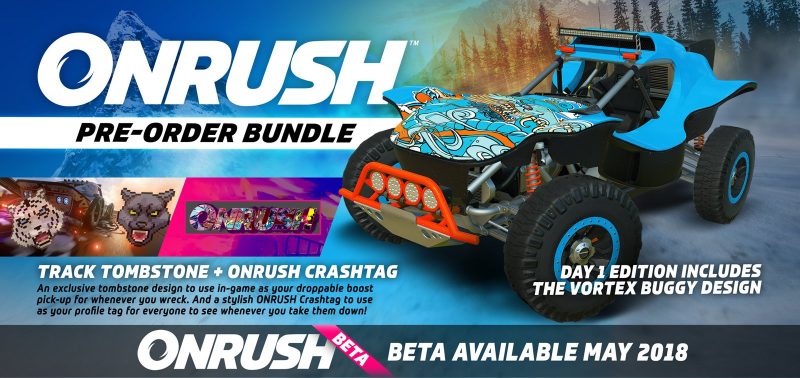 Pre-order Onrush to be upgraded to the Day One Edition and receive the pre-order bundle depicted above. The following extras are included:
Vortex Buggy Design
Track Tombstones: two exclusive tombstone designs to use in-game as your droppable boost pick-up for whenever you wreck.
Onrush Crashtag: use as your profile tag for everyone to see whenever you take them down
Deluxe Edition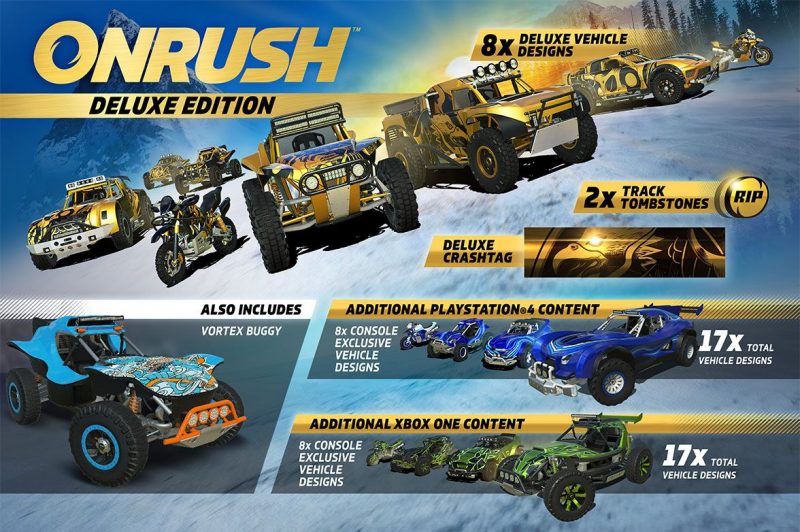 The digital Deluxe Edition of Onrush costs $74.99 and comes with the following on top of the base game:
Eight exclusive vehicle designs with iconic gold & black liveries
Extra Crashtag artwork
Two Deluxe Track Tombstones
Eight console-exclusive vehicle designs (blue liveries for PlayStation, green for Xbox)
Including the pre-order bonus, this edition boasts a total of 17 extra vehicle designs.
Onrush is scheduled to be released on June 5, 2018 for Xbox One and PlayStation 4 consoles. A Windows release is also planned, albeit at a later, as of yet unannounced date.
Check out our other upcoming racing games and upcoming playstation 4 games.