This game was released on May 24, 2016 and is no longer available to pre-order. Any incentives that were offered are listed below.
Overwatch is a team-based hero shooter developed by Blizzard for current-gen consoles and Windows. The game boasts a diverse cast of playable characters, each with unique abilities and playstyle, but still falling into one of four roles (Tank, Offense, Defense, and Support). There are three main game modes: Assault, Escort, and Control.
Overwatch is to include ranked play with seasonal divisions, tiers, and leaderboards at launch. Due to its competitive nature, the upcoming game has already garnered interest as a potential esports title.
Overwatch is now available on GamerSaloon – Where Gamers Play for Real Money.
Pre-order bonuses
Pre-order Overwatch at any participating retailer to receive Noire skin for Widowmaker heroine, as well as two early access codes to the Open Beta starting May 3 (following that, everyone will be able to play for free from May 5 to 9). Pre-purchasing digitally through Xbox or PlayStation Store also grants you the same perks. In addition to these, there are exclusive retailer bonuses available:
GameStop: Mini Baby Winston Figure and Overwatch Poster
Best Buy: Overwatch Collectible Metal Art Plate
Let's take a quick look at the game editions next.
Standard Edition
The base edition of Overwatch is only available for PC via Battle.net. It costs $40 and includes all 21 heroes in the game. Pre-purchase bonuses listed above are also available with this version.
Origins Edition
This is the edition you will find at all brick-and-mortar retailers. It costs $60 and comes with the following extras (mostly cosmetic perks for other Blizzard games):
5 Origin Skins (Overgrown Bastion, Blackwatch Reyes, Slipstream Tracer, Strike-Commander Morrison, and Security Chief Pharah)
World of Warcraft – Baby Winston Pet
Diablo III – Mercy's Wings
Hearthstone – Card Back
StarCraft II – In-game Portraits (Tracer, Reaper, Pharah, Winston, Bastion, and Soldier: 76)
Heroes of the Storm – Tracer Hero
Collector's Edition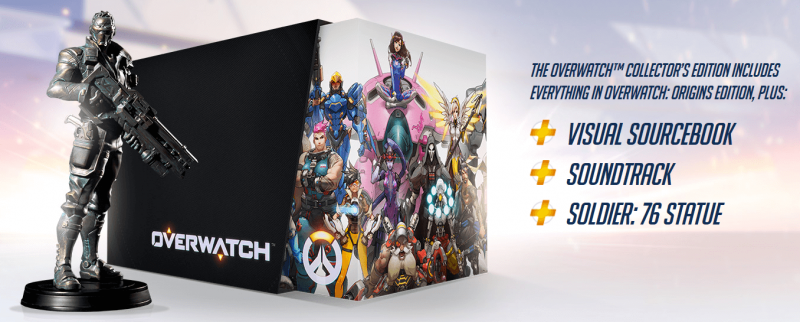 Of course, no big launch would be completely without a more expensive Collector's Edition, and Overwatch is no exception. This $130 version of the game comes with everything from the Origins edition, plus a 12.8″ tall Soldier: 76 statuette, Visual Sourcebook with illustrated information about the game's heroes and locations, and Overwatch Soundtrack.
Cinematic trailer
Overwatch is scheduled for a worldwide launch on May 24, 2016. The game will run on PS4 and Xbox One consoles as well as Windows PCs, but won't feature cross-platform play.
Check out our other upcoming shooter games and upcoming pc games.