This game was released on May 08, 2018 and is no longer available to pre-order. Any incentives that were offered are listed below.
Pillars of Eternity II: Deadfire is a story-focused single-player RPG developed by Obsidian Entertainment. Much like the critically-acclaimed first installment, the upcoming game was successfully crowdfunded – this time via Fig rather than Kickstarter – with over $4M in contributions.
Deadfire puts the player on the pursuit of an awakened god, Eothas, and sends them on a voyage through the exotic Deadfire Archipelago. In addition to the brand new region to explore, there are new and returning companions (seven in total), persistent and impactful choices, dynamic weather, and revised spells and abilities. Other additions include upgradable ships, sub-classes, companion relationships, and player AI scripting.
Pre-order Bonuses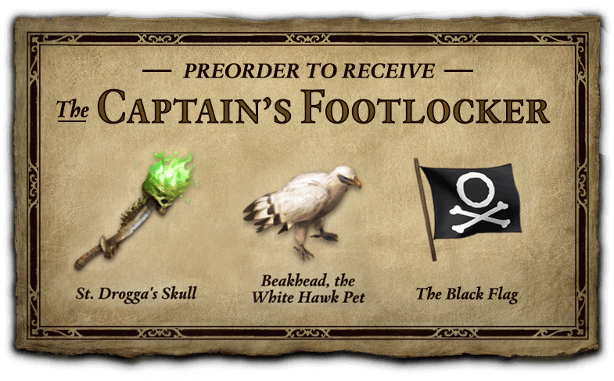 Pre-order Pillars of Eternity II for PC, Mac, or Linux to receive Captain's Footlocker DLC pack containing the following items, as per the official website:
St. Drogga's Skull: crafted from a sabre and the skull of a martyr, it will slash and burn enemies in combat, while also guiding players through the darkest reaches of the Deadfire.
Beakhead, the Hawk (In-Game Pet): Beakhead, the white hawk, took a liking to your ship soon after you arrived in the Deadfire. Captains in the Deadfire are only as effective as their crew, and with this jaunty first-mate by your side, you're bound to find success at sea.
The Black Flag: said to have been flown by a mysterious and rowdy band of seadogs from a far-off land, who dyed their sails black with a stain made from ground-up dragon glass. Dark and intimidating, but somehow attractive, nonetheless.
Deluxe Edition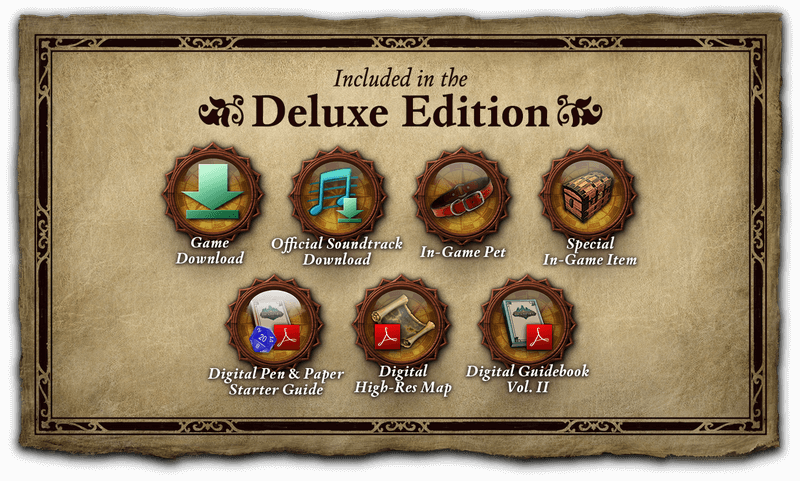 The digital Deluxe Edition increases the price from $49.99 to $59.99, and adds the game's official soundtrack composed by Justin Bell, an in-game pet, a Deadfire themed special in-game item, a digital pen and paper RPG starter guide, a high-resolution game map, and the Volume II of the digital guide book published by Dark Horse.
Obsidian Edition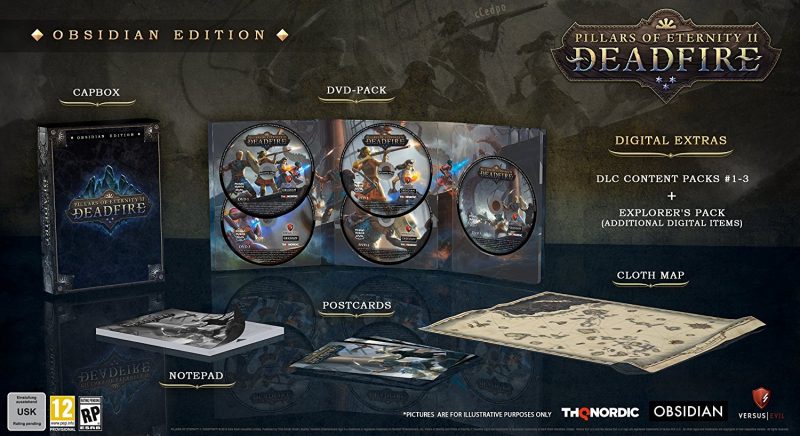 Lastly, the Obsidian Edition retails for $79.99 and comes with everything listed under the Deluxe Edition, plus additional physical items: a cloth map of the Deadfire region, an Explorer's notepad, and a set of postcards that render the Deadfire Archipelago in beautiful detail.
Pillars of Eternity II: Deadfire will be out for Windows, Linux, and Mac on May 8. The console versions are expected in Q4 2018.
Check out our other upcoming rpg games and upcoming nintendo switch games.