This game was released on May 23, 2017 and is no longer available to pre-order. Any incentives that were offered are listed below.
Portal Knights is a cooperative sandbox RPG which mixes elements of block-building and role-playing games. Players pick a class, explore randomly-generated 3D sandbox worlds, mine and gather resources, craft weapons and gear, and participate in battles against the formidable Portal Guardians. The game supports up to four players in a co-op.
Portal Knights is developed by a German indie studio Keen Games, and published by 505 Games.
Pre-order bonuses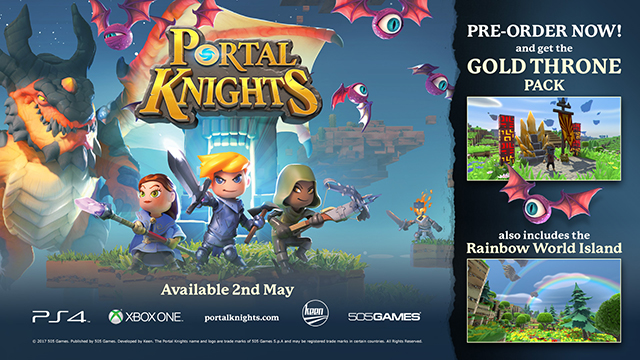 Pre-order Portal Knights for either console ($29.99) to receive the Gold Throne Edition with the Gold Throne Pack:
New gold/red flag/banner
Unique hat design, Welders Mask
Throne with Gold Crystal Shards
New glow in the dark block type x 2 colours – red and yellow
A new pet skin, Gold Cat
Rainbow World Island
The bonus should be available through every retailer which carries the boxed copies. As an additional incentive, Best Buy is offering a $10 Gift Card, and the game is discounted by 19% on Amazon and Walmart.
Consoles aside, the game is already out on Steam as an Early Access title priced at $14.99. Purchasing it through Valve's platform grants one an exclusive in-game Pioneer Flag and Cape. Additional bonus items are going to be awarded once Portal Knights leaves Early Access. There will also be a slight increase in price once the game is fully released.
Console announcement trailer
Portal Knights will launch on May 23, 2017 in North America for PlayStation 4 and Xbox One consoles. The Steam version will move from Early Access to full release around the same time.
Check out our other upcoming rpg games and upcoming pc games.