This game was released on April 24, 2020 and is no longer available to pre-order. Any incentives that were offered are listed below.
Predator: Hunting Grounds is an asymmetrical multiplayer shooter developed by IllFonic for PlayStation 4 and the PC. The game pits an elite Fire Team of human soldiers against a single Predator armed with deadly alien tech. Both the Predator and the soldiers have classes with unique abilities and weapon loadouts. The hunts take place in various remote locations around the world.
Fans of the Predator franchise will be interested in the pre-order bonuses, which comprise in-game items inspired by the original movie.
Pre-order Bonuses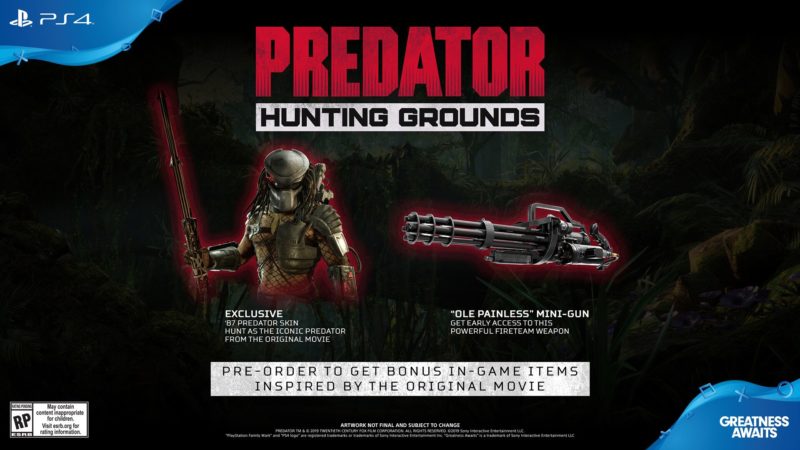 Pre-order Predator: Hunting Grounds for the following in-game bonuses inspired by the original movie:
Exclusive '87 Predator Skin: hunt as the iconic Predator.
"Ole Painless" Mini-Gun: early access to a powerful Fire Team weapon, perfect for those who don't have time to bleed.
PlayStation Store will further reward early purchasers with eleven Predator avatars and a Dynamic Theme.
The base game is priced at $39.99, and there's also a Deluxe Edition available.
Deluxe Edition ($59.99)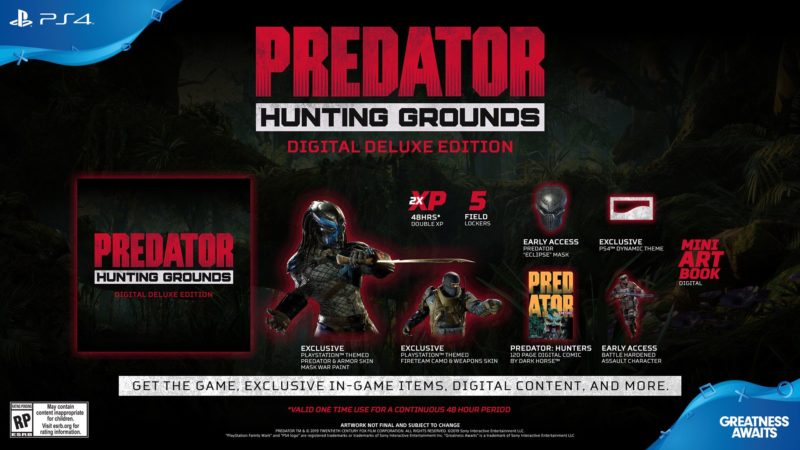 The digital Deluxe Edition comes with a plethora of in-game content, an art book, and a digital comic. Note that this is the PS4 version – at the time of writing, there's no information about its PC counterpart yet.
48-hour Double XP
5 Field Lockers
PlayStation-themed Fireteam Camo and Weapons Skin (exclusive)
PlayStation-themed Predator and Armor Skin (exclusive)
PlayStation-themed Predator Mask War Paint
Early Access to Battle Hardened Assault Character
Early Access to Predator Eclipse Mask
Predator: Hunters digital comic by Dark Horse

Follow a group of human survivors who have decided to turn the tables on the Predators. This 120-page collection includes Predator: Hunters issues 1-5.

PS4 Dynamic Theme
Digital Mini Art Book
Predator: Hunting Grounds is scheduled to launch on April 24th, 2020.
Check out our other upcoming shooter games and upcoming pc games.