This game was released on September 12, 2017 and is no longer available to pre-order. Any incentives that were offered are listed below.
Pro Evolution Soccer 2018 is a soccer simulator developed by PES Productions and published by Konami. It brings various gameplay improvements, such as more precise ball handling and improved physics, as well as graphical upgrades for increased authenticity, despite the game still running on the same Fox Engine. There also are new modes, namely the 2v2 and 3v3 online co-op, with support for local guests. The publisher also promises a PC port that is on par with its console counterpart in terms of graphics and content, which wasn't quite the case with the two previous games from the franchise.
Pre-order Bonuses
Pre-order Pro Evolution Soccer 2018 to receive the following:
UEFA Champions League Agent for myClub (disc & digital)
Usain Bolt for myClub (disc & digital)
4 Start Up Agents, 1 Partner Club Agent, 10,000 GP x 10 weeks (digital only)
2 Premium Partner Agents for myClub (digital only)
Refer to the list below for retailer and platform bonuses:
GameStop: Premium Edition with an Official PES fidget spinner.
Best Buy: $10 gift card with boxed versions of the game.
PlayStation Store: PES 2018 Theme.
FC Barcelona Edition
The digital FC Barcelona Edition will set you back $69.99. On top of the base game, it comes with the following:
UEFA Champions League Agent for myClub
Usain Bolt for myClub
2 Premium Partner Agents for myClub
1,000 myClub coins
FC Barcelona Agent
FC Barcelona Legend Agent
Legendary Edition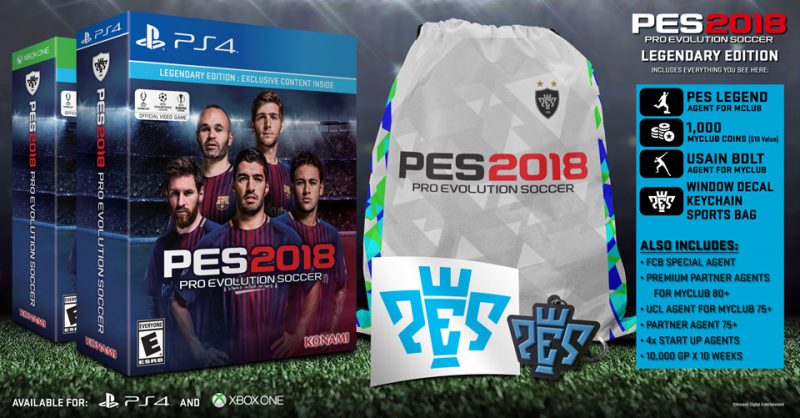 The physical counterpart to that is the Legendary Edition, which also costs $69.99 and includes the following:
FC Barcelona Agent
PES Legend Agent [★D. MARADONA Overall:83]
Sling Bag
Box
Topps Card
Sticker
1000 myClub Coins
Premium Partner Agents
UEFA Champions League Agent
Usain Bolt
Going by Konami's website, the Legendary Edition appears to be exclusive to GameStop.
PES 2018 is scheduled to be released on September 12, 2017 in North America. Before that, there will be an online beta, which will run July 20 through 31.
Check out our other upcoming sports games and upcoming pc games.