This game was released on December 08, 2020 and is no longer available to pre-order. Any incentives that were offered are listed below.
Puyo Puyo Tetris 2 is a puzzle game from Sega that mashes up Japan's popular Puyo Puyo franchise with Tetris. Like in the first game, players can enjoy a solo Adventure mode (now with a new Overworld map to navigate between puzzle stages), local Versus competitions, and ranked Online matches.
New in Puyo Puyo Tetris 2 is the Skill Battle mode that features a character progression system and Item Cards that provide special abilities during battles.
Launch Edition ($39.99)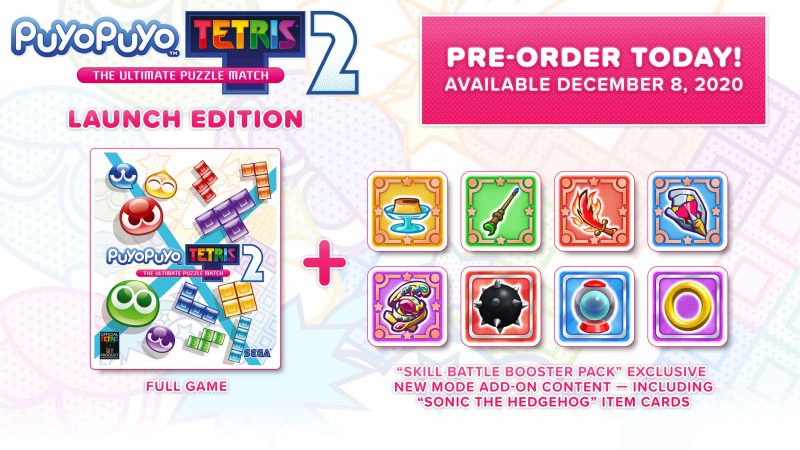 First-run copies of Puyo Puyo Tetris 2 come with a bonus Skill Battle Booster Pack that contains eight in-game rare Item Cards, three of which are special cards featuring items from Sonic the Hedgehog series. The pack is available with both the physical Launch Edition and the digital Launch Edition on Microsoft Store and PlayStation Store. At the time of writing, digital Nintendo pre-orders weren't up yet.
Puyo Puyo Tetris 2 is scheduled to launch on December 8, 2020 on Xbox One, Xbox Series X|S, PlayStation 4 and 5, and Nintendo Switch. The game will also launch on PC via Steam in early 2021. Those who buy the PlayStation 4 or Xbox One version will be able to upgrade to the next-gen counterpart free of charge.
Check out our other upcoming puzzle games and upcoming nintendo switch games.