This game was released on April 03, 2020 and is no longer available to pre-order. Any incentives that were offered are listed below.
Resident Evil 3 is a remake of the survival horror classic, Resident Evil 3: Nemesis, which was originally released back in 1999. The remake brings overhauled visuals and revamped over-the-shoulder camera gameplay. According to developer Capcom, both characters and zombies are based on real people, scanned using photogrammetry.
Story-wise, Resident Evil 3 follows Jill Valentine as she tries to escape the zombie-infested Raccoon City. To make matters worse, she's being hunted by Umbrella Corporation's relentless bioweapon Nemesis.
In addition to the story campaign, the game includes Resident Evil Resistance, an asymmetrical multiplayer mode that pits four Survivors against a single Mastermind. The Survivors attempt to escape an experimental Umbrella facility riddled with zombies and traps controlled by the fifth player.
Pre-order Bonuses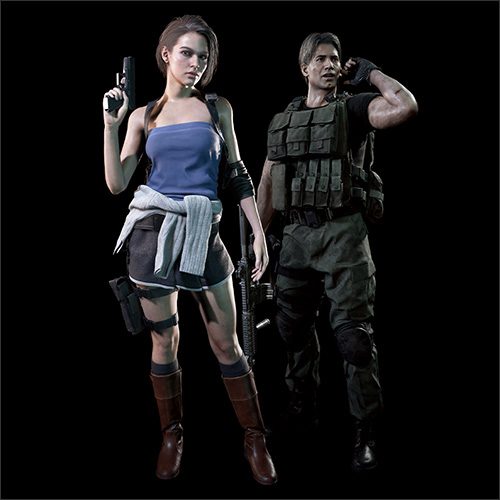 Pre-order Resident Evil 3 Remake digitally or at participating retailers to receive an exclusive Classic Costume Pack. Like the name suggests, the bonus pack contains costumes for Jill Valentine and Carlos Oliveira inspired by their designs in the original 1999 title, including Jill's original outfit and Carlos's hairstyle.
Further, exclusive bonuses are listed below:
Best Buy: exclusive Steelbook with Jill and Nemesis artwork
Amazon: a $10 discount
Target: a $10 discount
GreenManGaming (PC): a 15% discount
PlayStation Store: a Resident Evil 3 Special Theme.
Collector's Edition ($179.99)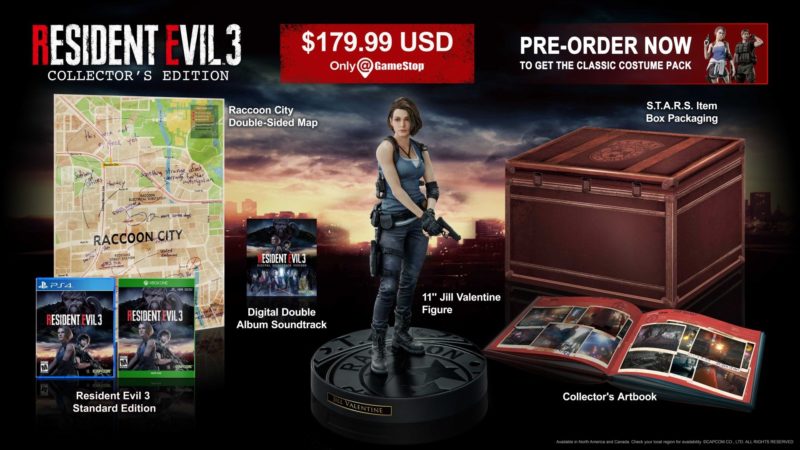 The Resident Evil 3 Collector's Edition comes with the following extras:
Jill Valentine Figure: an 11-inch figure of Jill Valentine based on her latest Resident Evil 3 design.
Art Book: a classified file containing photographs, reports, and documents of Raccoon City procured by Umbrella Corporation.
Digital Soundtrack: a voucher for a double album soundtrack with haunting tracks from RE3 and the multiplayer game Resident Evil Resistance.
Raccoon City Survival Map: one side depicts a Raccoon City map utilized by survivors during the zombie outbreak; the other side showcases a healthier side of Raccoon City before the outbreak with a collage of ads and placements citizens may have seen on a stroll.
S.T.A.R.S. Item Box Packaging: it's a box.
In the US, this edition is exclusive to GameStop.
The new Resident Evil 3 is coming to Xbox One, PlayStation 4, and PC via Steam on April 3rd, 2020 worldwide.
Check out our other upcoming horror games and upcoming pc games.