This game was released on January 24, 2017 and is no longer available to pre-order. Any incentives that were offered are listed below.
Resident Evil 7: Biohazard is a survival horror game developed and published by Capcom for current-gen consoles and Windows. The PS4 version includes full PlayStation VR support. In a departure from the previous games in the series, Resident Evil 7 is played in first-person "Isolated View" perspective.
The game follows a new protagonist, a civilian named Ethan whose search for his missing wife leads him to a decrepit plantation mansion in Louisiana. Resident Evil 7 is said to return to the roots of the series, with less action and a bigger focus on survival horror, exploration, and puzzles.
Pre-order bonuses

Pre-order Resident Evil 7 to receive the Survival Pack which contains:
Herbs
First Aid Med
Strong First Aid Med
Lucky Coin
Early unlock of "Madhouse Mode" difficulty
Pre-ordering and purchasing the game through GameStop also gets you a free digital copy of Resident Evil: Retribution movie for VUDU ($12.99 Value).
Deluxe Edition
The digital Deluxe Edition of Resident Evil VII had its price upped to $89.99 and now contains four short side-stories and two additional story episodes. A Season Pass is also available separately for $29.99.
Collector's Edition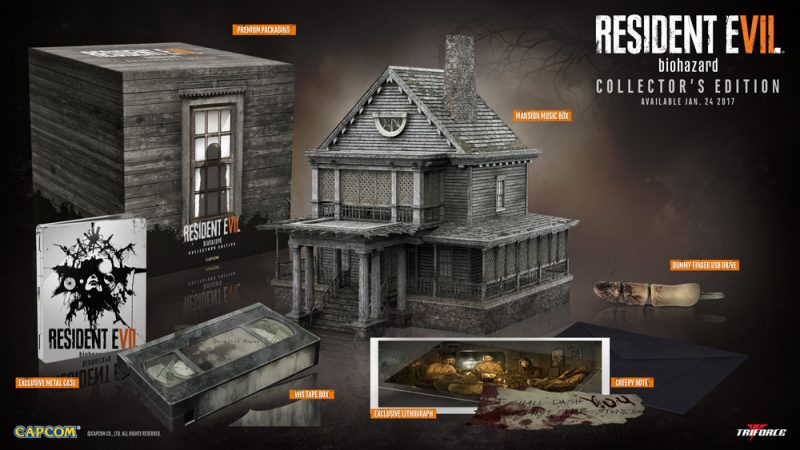 This edition carries a price tag of $179.99 and comes with the following:
Premium Packaging
Mansion Music Box with LED effects
Dummy Finger 4GB USB Drive
Exclusive Metal Case
VHS Tape Box
Exclusive Lithograph
Creepy Note
It is available for Xbox One and PS4, and is exclusive to GameStop.
"The Bakers" trailer
Resident Evil 7: Biohazard is slated to be released on January 24th, 2017.
Check out our other upcoming horror games and upcoming pc games.