This game was released on March 20, 2012 and is no longer available to pre-order. Any incentives that were offered are listed below.
Resident Evil: Operation Raccoon City is an upcoming squad-based shooter game developed by Capcom and Slant Six Games. It takes place in the same time period as Resident Evil 2 and Resident Evil 3: Nemesis do, and, like the name suggests, is set in Raccoon City.
The player steps into the shoes of an Umbrella Security Service officer, tasked with destroying any evidence of Umbrella Corporation's illegal research. The game is said to allow the player to diverge from Resident Evil canon, such as killing Leon or Clair.
Resident Evil: Operation Raccoon City pits the player against survivors of the T-Virus outbreak, zombies and other mutated enemies, and the U.S. Special Ops who aim to expose Umbrella's crimes. Besides the single-player campaign, the game also offers several competitive multiplayer modes.
Resident Evil: Operation Raccoon pre-order bonuses
Preorder Resident Evil: Operation Raccoon at any of the following three retailers to get alternate costumes for the six playable characters (Vector, Lupo, Bertha, Spectre, Four Eyes, and Beltway). In addition, each retailer is also offering exclusive in-game weapons:
Amazon: Renegade Pack which includes the Machine Pistol and the Cowboy Shotgun.
Gamestop: Power Weapon Pack with the Anti-Material Rifle and the Combat Shotgun.
BestBuy: Elite Weapons Pack which contains the Perforator and the Combat SMG.
The same in-game weapons are also available at the following UK retailers:
Amazon: Renegade Gun Pack (Machine Pistol and Cowboy Shotgun).
GAME: Power Weapons Pack (Anti-Material Devastator Rifle and Combat Shotgun).
Fans looking for even more extra content should consider the Limited Edition.
Special Edition contents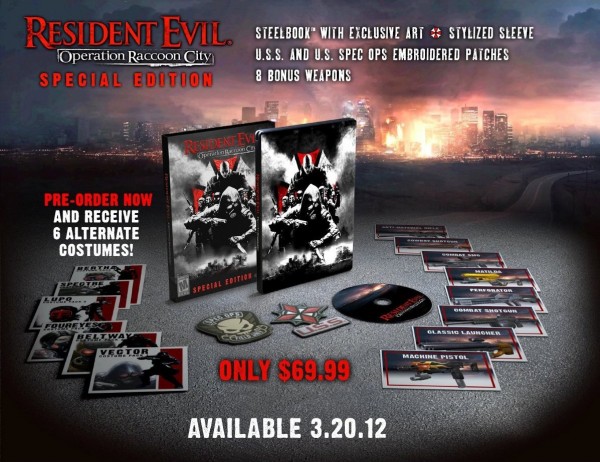 RE:ORC is also available in a Special Edition which retails for $69.99 and includes the following items:
SteelBook package with exclusive art
Umbrella Security Service and U.S. Spec Ops Field Unit embroidered patches
All bonus weapons, 8 in total
Naturally, if you pre-order the Limited Edition of Operation Raccoon City you will also get the same 6 alternate costumes as with the Standard Edition. This bundle isn't exclusive to any one retailer, and can be found on Amazon, Gamestop, Walmart, and so on.
Triple Impact trailer
Resident Evil: Operation Raccoon City will be released for consoles on March 20, 2012 in North America, and March 23 in Europe. PC version will be released at a later date.
Check out our other upcoming shooter games and upcoming pc games.