This game was released on September 06, 2011 and is no longer available to pre-order. Any incentives that were offered are listed below.
Resistance 3 is a PS3-exclusive shooter developed by Insomniac Games that will be released in September this year. The game takes place four years after Resistance 2, in a world where United States and the rest of Earth is lost to the Chimeran menace. Unlike in the previous two games, the main character of R3 is going to be Joseph Capelli, who after the events in Resistance 2 settled in an underground outpost, Haven, in Oklahoma.
Resistance 3 will play similarly to the previous installments, but there have been some changes to game mechanics. There won't be health regeneration, so you might have to play more carefully. The game will feature both new and old weapons, all of which will be upgradeable. The player will have the ability to climb over walls and jump through windows, and the controls will also be tweaked slightly.
Resistance 3 pre-order bonus list
Sony has recently announced retailer-specific Resistance 3 preorder bonuses in the US. There are some nifty goodies to be had if you reserve a copy of this game at certain stores:
GameStop: a Chimera Tooth Necklace worn by Capelli, and an exclusive multiplayer booster which allows you to start at level 5.
Amazon: No. 60 Air Fuel Grenade which releases a cloud of flammable vapor and creates a massive fiery explosion. Only available in the single-player campaign.
BestBuy: an Infected Nathan Hale skin (from his final hours in Resistance 2!) and an exclusive multiplayer ability for taunting your enemies.
Walmart: five exclusive multiplayer PSN tags, including Sentinel.
Canada and the other US retailers will be getting a SRPA Black Ops skin for multiplayer.
The game will have several collector's editions, namely Special Edition, Survivor Edition, and Doomsday Edition. The first two have only been confirmed for Europe and Australia at this point, and the Doomsday Edition only for North America.
R3 Special Edition contents
The Special Edition of Resistance 3 comes in a SteelBook case and includes the following:
A voucher code for all of the pre-order items listed above (minus Walmart-exclusive titles).
A "vinyl effect" game disk, with actual ribbed top side.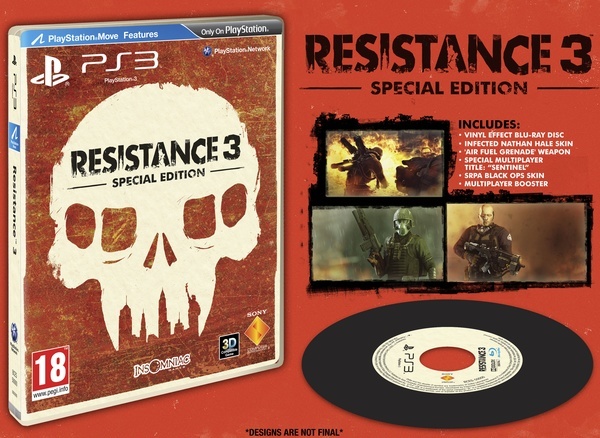 You will find the Special Edition of Resistance 3 at GAME or Gamestation in the UK, and EB Games in Australia.
R3 Survivor Edition contents
This ultimate Resistance 3 bundle contains everything listed in the Special Edition, as well as the following physical items:
Canvas satchel: Capelli's rugged, but reliable satchel with Res 3 logo.
Chimera firing range target: life-sized Chimera target for practicing your aim.
"Fight for Freedom" toy soldiers: a set of plastic soldiers depicting Joseph Capelli and Chimera fighters.
Joseph Capelli's journal: contains the protagonist's notes about the enemies he'll face and the weapons he'll use in the game.
SRPA hip flask: a steel hip flask with a Special Research Projects Administration logo.
SRPA playing cards: a set of Resistance-themed playing cards.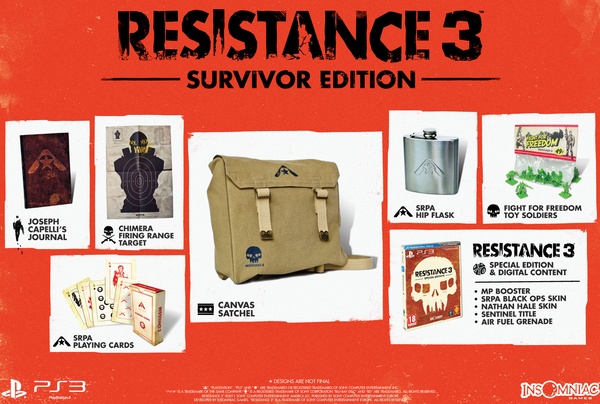 This edition is targeted at PAL regions, and it seems it's already sold out in the UK.
R3 Doomsday Edition bundle
If you don't own Playstation Move yet, Resistance 3 Doomsday Edition might be of interest to you. It comes with a hefty price tag of $150 and includes the following items:
Playstation Move Sharp Shooter attachment.
PlayStation Move motion controller.
PlayStation Move navigation controller.
PlayStation Eye camera.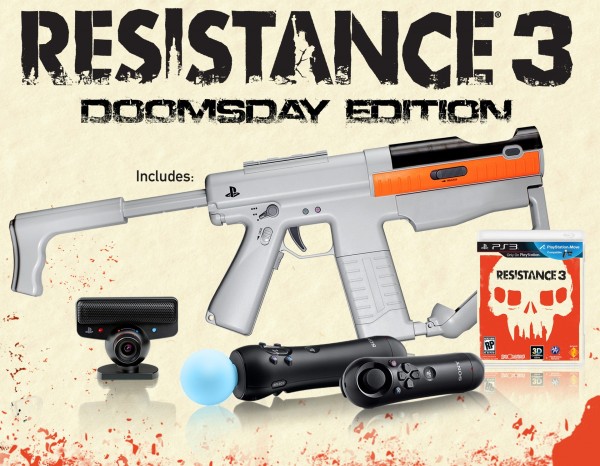 This bundle was spotted on Gamestop, Amazon and BestBuy.
Resistance 3 hits the shelves on 6th September in the US, 7th September in mainland Europe, and two days after that in the UK & Ireland.
Check out our other upcoming shooter games and upcoming playstation 3 games.