This game was released on November 10, 2015 and is no longer available to pre-order. Any incentives that were offered are listed below.
Rise of the Tomb Raider is a sequel to the 2013 reboot of the Tomb Raider franchise developed by Crystal Dynamics and published by Square Enix. The game has protagonist Lara Croft traveling to remote and dangerous locations like Syria or Syberia in an attempt to uncover ancient secrets.
As expected of a title featuring Lara's first actual tomb raiding expedition, it includes more exploration and puzzles than its predecessor. The combat system is also improved with the addition of non-lethal takedowns, multiple weapons of different types, better stealth mechanics, and item crafting.
Pre-order bonuses
Pre-order the Xbox One version of Rise of the Tomb Raider at one of the retailers listed below to get an exclusive outfit, weapon skin, and an Expedition Card pack. A new feature in RotTR, cards can be acquired by exploring and completing challenges. They modify the play experience in fun and useful ways, but can only be used in extra game modes rather than the core campaign.
Microsoft Store might also be worth a mention; while they don't have any DLC, they do offer a $10 Xbox gift card.
Collector's Edition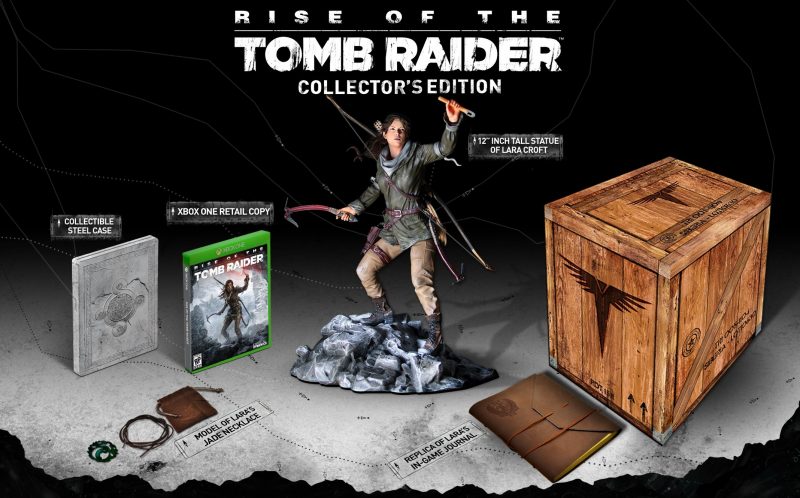 Available only through the official Square Enix and Tomb Raider online stores, the $149.99 Collector's Edition includes a copy of Rise of the Tomb Raider in a steel case, a 12″ statue of Lara Croft, a replica of the leather journal she uses in game, and a model of her jade necklace.
Prophet's Tomb gameplay
This 13-minute demo from Gamescom 2015 shows Lara Croft exploring the Prophet's Tomb, which is filled with deadly traps and challenging puzzles.
Rise of the Tomb Raider is scheduled to launch on November 10, 2015 as a timed Xbox exclusive. A Windows release is planned early next year, while PS4 owners will have to wait until Q4 2016.
Check out our other upcoming action games and upcoming xbox 360 games.