This game was released on May 30, 2017 and is no longer available to pre-order. Any incentives that were offered are listed below.
Rising Storm 2: Vietnam is a tactical online FPS set during the Vietnam War. Developed by Antimatter Games and Tripwire Interactive, the game is a sequel to the 2013 Rising Storm, a standalone expansion for Red Orchestra 2: Heroes of Stalingrad which was received positively by gamers and critics alike. It features elements similar to other multiplayer first-person shooters, such as classes and player-controlled aircraft, as well as innovative additions such as tunnels which add another layer of strategy.
RS2: Vietnam boasts authentic weaponry and large, open maps with asymmetrical gameplay. The largest multiplayer mode, Territory, supports up to 64 players in massive battles between US and Vietnamese forces.
Pre-order Bonuses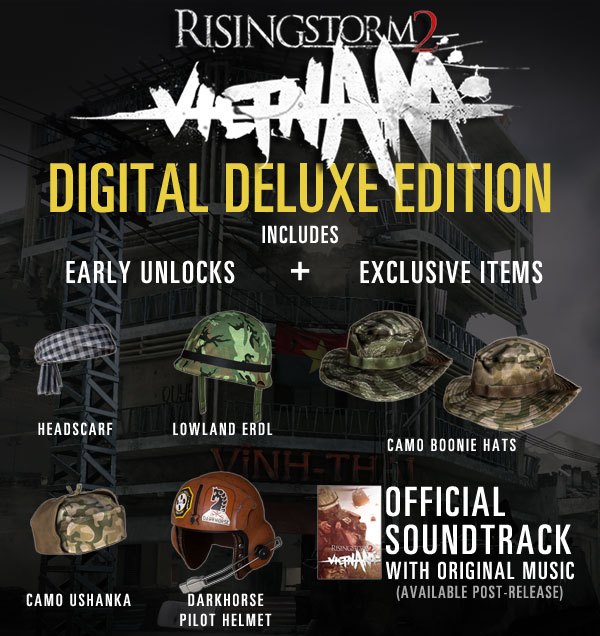 From now until the game's release, its Digital Deluxe Edition is on sale with a 25% discount on Steam, lowering the price to $22.49. Following launch, the standard version will cost $24.99 and the Digital Deluxe will be priced at $29.99, thus making this an attractive pre-purchase deal.
Digital Deluxe Edition content includes:
Exclusive Camouflage Boonie Hats for both factions
Four Early Cosmetic Unlocks:

United States Army/Marines: Lowland ERDL Camouflaged Helmet and Darkhorse Pilot Helmet
North Vietnamese: Headscarf and Camouflaged Ushanka

The Official Soundtrack
Access to the next Beta wave (time-limited)
Rising Storm 2: Vietnam is expected to be released on May 30.
Check out our other upcoming shooter games and upcoming pc games.