This game was released on November 15, 2011 and is no longer available to pre-order. Any incentives that were offered are listed below.
Saints Row: The Third is an open-world action game developed by Volition and scheduled for release on November 15th. Few years have passed after the events of Saints Row 2, and the Saints have moved to the city of Steelport where they will have to fight three rival gangs for control. You will get to meet both familiar and new characters in this game.
The last installment of the trilogy also seems to be the craziest. Saints Row 3 will offer an array of ridiculously awesome weapons like a giant dildo bat, a vehicle that shoots pedestrians, powerful airstrikes, and huge boxing gloves that make the people you punch explode. Not to mention the new VTOL (Vertical Take Off & Landing) jet which is armed with lasers, or a cannon that fires live octopuses. The latter is actually a preorder bonus, so let's take a look at those incentives right now.
Saints Row 3 pre-order bonuses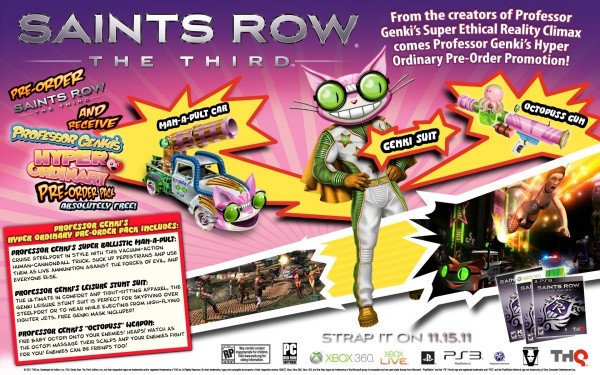 Everyone who preorders Saints Row: The Third before the launch will receive Professor Genki's Hyper Ordinary Pre-order Pack which includes the following wacky in-game items:
Super Ballistic Man-a-Pult Car: cruise Steelport in style with this vacuum-action human-cannonball truck. Suck up pedestrians and use them as live ammunition against the forces of evil (and everyone else). You can actually launch yourself, too!
"Octopuss" Cannon: Fire baby octopi onto your enemies' heads! Watch as the octopi massage their scalps and your enemies fight for you. Enemies can be friends, too!
Leisure Stunt Suit: the ultimate in comfort and tight-fitting apparel, the Genki Leisure Stunt Suit is perfect for skydiving over Steelport or to wear while ejecting from high-flying fighter jets. Free Genki mask included!
You can see these items in action in the preview video below (warning: this clip contains more flashing images than a crazy Japanese commercial).
The official THQ Store will also throw in an additional Season Pass that includes three downloadable mission packs, and free shipping in the US and Canada.
On the other hand, preordering SR3 via Steam will get you the Apoco-Fists and the Cold War Luchador (Heavy only), as well as the Mark of the Saint (any class).
Platinum Pack (Collector's Edition)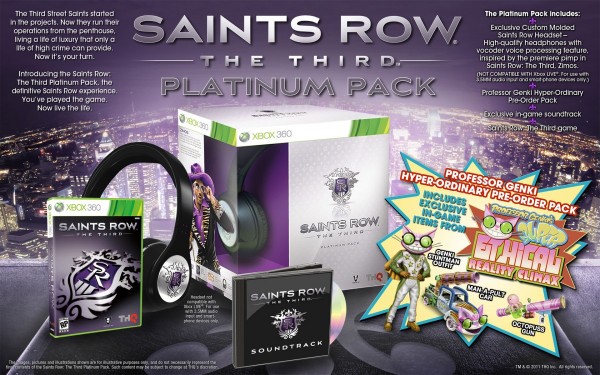 Saints Row: The Third is also going to be available in a premium Collector's Edition for both consoles. It will carry a price tag of $99.99 and include the following items:
Exclusive Custom Molded Saints Row Headset: high-quality headphones with vocoder voice processing feature, inspired by the premiere pimp in Saints Row: The Third, Zimos. Call a friend and switch on the effect to speak with a digitized voice of the stars! (The headset has a 3.5mm plug, so it isn't compatible with Xbox Live or PSN. I don't see what's stopping you from getting an adapter, though).
Exclusive in-game soundtrack: self-explanatory, a disk with the Saints Row 3 OST.
Naturally, if you preorder Saints Row: The Third Platinum Pack, you will also get the aforementioned Professor Genki's digital goodies. This edition of the game can be found on Amazon, GameStop, BestBuy, and other retailers.
Check out our other upcoming action games and upcoming pc games.