This game was released on May 10, 2019 and is no longer available to pre-order. Any incentives that were offered are listed below.
Saints Row: The Third – The Full Package is an open-world action-adventure game in which the players take on the role of the leader of the 3rd Street Saints street gang and fight a powerful criminal organization, the Syndicate, in the city of Steelport.
Saints Row: The Third has been out on last-gen platforms for a few years, and now Nintendo Switch is getting its turn. This version of the game isn't called The Full Package for nothing, as it comes with all previously-released content including three mission packs and over 30 DLC items. The publishing of the port is handled by Deep Silver.
Pre-order Bonuses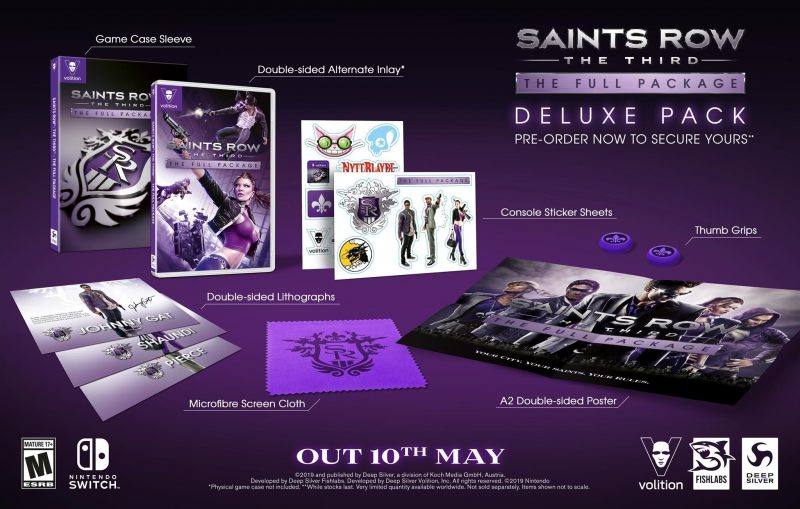 The only pre-order bonus for the Nintendo Switch version of Saints Row: The Third – The Full Package is exclusive to GameStop, and it's quite something to look at. By shelling out $40 for a physical copy from the retailer, you'll get the Deluxe Pack which contains following extras:
Game Case Sleeve
Double-Sided Alternate Inlay (physical game case not included)
Double-Sided Lithographs
Microfibre Screen Cloth
A2 Double-Sided Poster
Thumb Grips
Console Sticker Sheet
And if you'd rather pre-purchase digitally from Nintendo eShop, there's a slight bonus to be had there as well: at the time of writing, the game is discounted from its regular price of $39.99 to $35.99.
Saints Row: The Third – The Full Package for Nintendo Switch launches May 10, 2019.
Check out our other upcoming action games and upcoming nintendo switch games.