This game was released on February 15, 2018 and is no longer available to pre-order. Any incentives that were offered are listed below.
The upcoming Secret of Mana is a 3D remake of the 1993 SNES action RPG from Square Enix. It follows the adventures of a courageous young man Randi, who alongside a noblewoman Primm and a mischievous sprite Popoi take on a treacherous empire in an attempt to restore balance to the world.
Compared to the original, the remake features revamped visuals and controls, voiced characters, a rearranged soundtrack, and local multiplayer for up to three players.
Pre-order Bonuses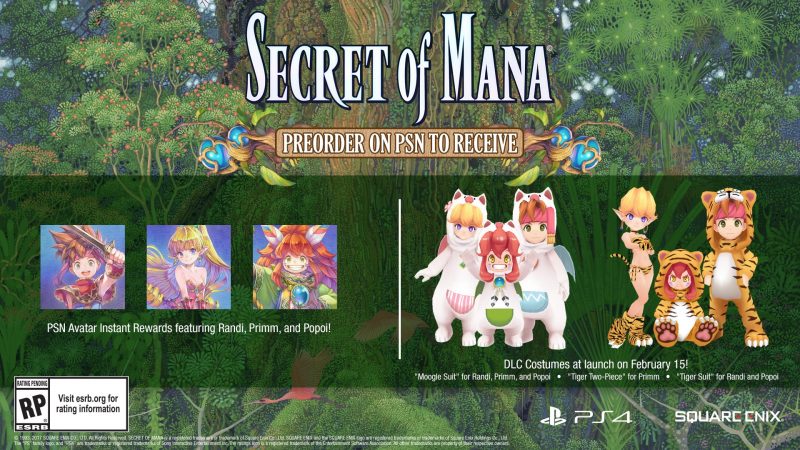 Pre-order Secret of Mana to receive the following DLC costumes at launch:
Moogle Suit for Randi, Primm, and Popoi
Tiger Two-Piece for Primm
Tiger Suit for Randi and Popoi
In addition, by pre-purchasing via PSN you will instantly receive Randi, Primm, and Popoi Avatars, whereas doing the same via Steam will grant you a Secret of Mana wallpaper.
The limited physical PS4 version of Secret of Mana can be obtained exclusively through GameStop in the US (EB Games in Canada).
Secret of Mana is scheduled for a global release on February 15, 2018.
Check out our other upcoming action games and upcoming pc games.