This game was released on March 22, 2019 and is no longer available to pre-order. Any incentives that were offered are listed below.
Sekiro: Shadows Die Twice is an upcoming action-adventure game developed by FromSoftware, the creator of Dark Souls and Bloodborne. Unlike those titles, Sekiro does not have character creation nor an extensive array of weaponry, with the protagonist instead wielding a katana throughout the entire game, supplementing it with various ninja techniques.
Players step into the shoes of Sekiro, a warrior in a fantasy version of 16th century Japan, who loses his arm in a battle to protect his young lord and is left for dead. He wakes up to find his missing limb replaced by a prosthetic, and sets out to rescue his kidnapped lord and regain his honor.
Pre-order Bonuses
Pre-ordering Sekiro: Shadows Die Twice entitles you to a Digital Artbook and a Digital Mini-Soundtrack. This offer is available from participating retailers as well as digital storefronts like Steam. The code can be redeemed at sekirothegame.com/redeem prior to March 21, 2021.
On top of that, the following retailers and digital storefronts have exclusive pre-order bonuses for Sekiro: Shadows Die Twice:
GameStop (boxed): limited edition katana replica letter opener. (Consoles only.)
Amazon (boxed): limited edition Steelbook featuring Sekiro ready to dispatch his enemies.
Xbox Store (digital):

Sekiro's Prosthetic Arm Avatar item.
Sekiro's Grappling Hook Avatar item.

PlayStation Store (digital):

Sekiro: Shadows Die Twice pre-order dynamic theme.
Hirata Estate dynamic theme.
Collector's Edition ($89.99)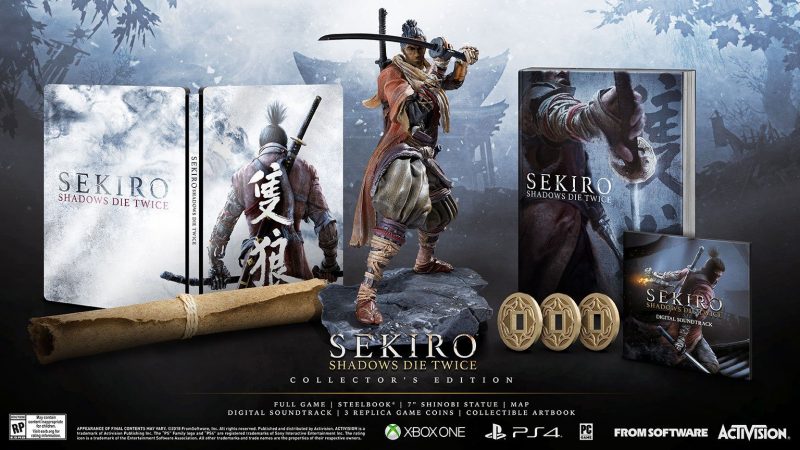 The Collector's Edition of Sekiro is exclusive to GameStop in the US. In addition to the game itself, it comes with the following:
7″ Shinobi Statue
SteelBook Case
Collectible Artbook
Map
Digital Soundtrack
Replica Coins
Sekiro: Shadows Die Twice is scheduled to launch for Xbox One, PlayStation 4, and Windows on March 22, 2019.
Check out our other upcoming action games and upcoming pc games.