This game was released on September 14, 2018 and is no longer available to pre-order. Any incentives that were offered are listed below.
Shadow of the Tomb Raider is the third entry in the reboot series developed by Eidos Montréal and Crystal Dynamics, and published by Square Enix. In this latest installment, Lara Croft must traverse an unforgiving jungle, explore a vast hidden city, overcome terrifying tombs, and stave off a Mayan apocalypse.
The upcoming game is said to be challenging in new and unexpected ways. According to the developers, they have created a diverse set of skills, combat techniques, and equipment. Mastering these will be necessary to survive the deadly jungle environments, underwater tunnel systems, and ancient Mayan tombs.
Pre-order Bonuses
Pre-order the retail version of Shadow of the Tomb Raider to receive an automatic upgrade to the Limited Steelbook Edition with three collectible art cards. You will find this edition on most retailers as well as Square Enix Store, while supplies last: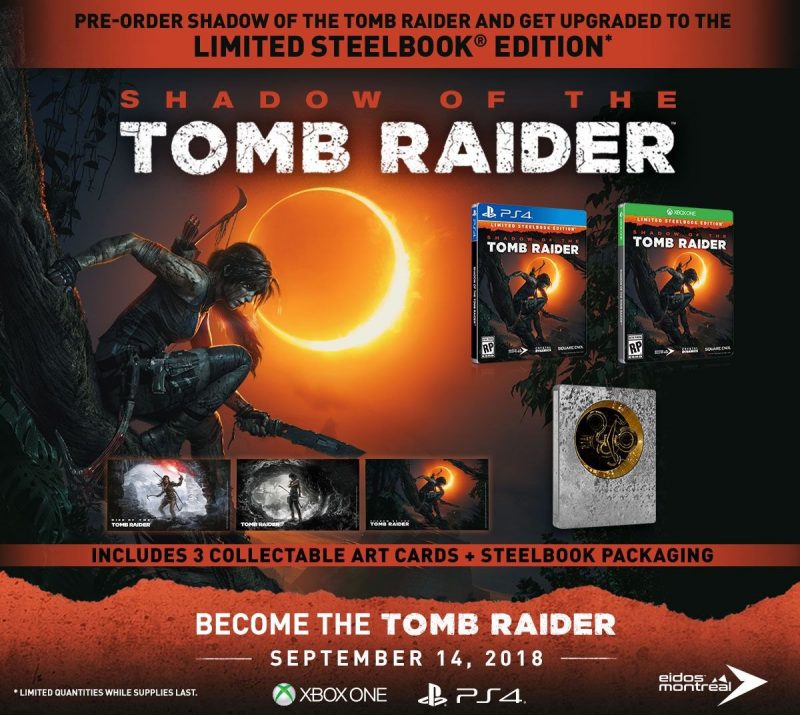 On the other hand, pre-purchasing digitally for any platform will grant an additional Skills Booster Pack (unlocks 3 skills within Eagle, Jaguar, and Serpent skill tree paths) and 48-hour early access, the latter only applicable to Digital Deluxe Edition and Croft editions: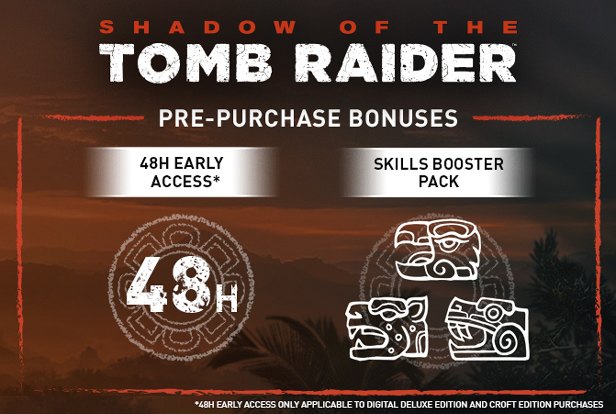 Lastly, there are exclusive retailer and platform bonuses to be had as well:
Amazon: Prima digital mini-guide and $10 promotional credit for Prime members.
GameStop: Shadow of the Tomb Raider branded flashlight.
Best Buy: $10 in reward certificates for My Best Buy members.
Newegg: $10 discount on adding item to cart.
PlayStation Store: Shadow of the Tombraider PS4 theme.
Microsoft Store: Xbox Live Avatar outfit.
Steam: exclusive wallpaper.
Green Man Gaming: a 25% discount (from $59.99 to $44.99).
And here's the official Mayan calendar-inspired chart of the available game editions and pre-order bonuses: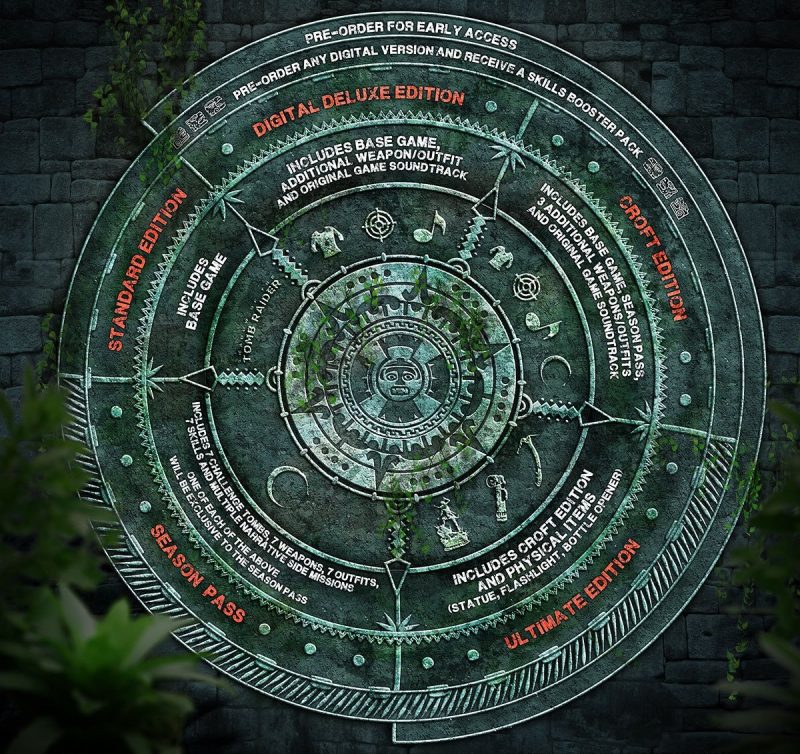 We'll break down the editions for you below.
Digital Deluxe Edition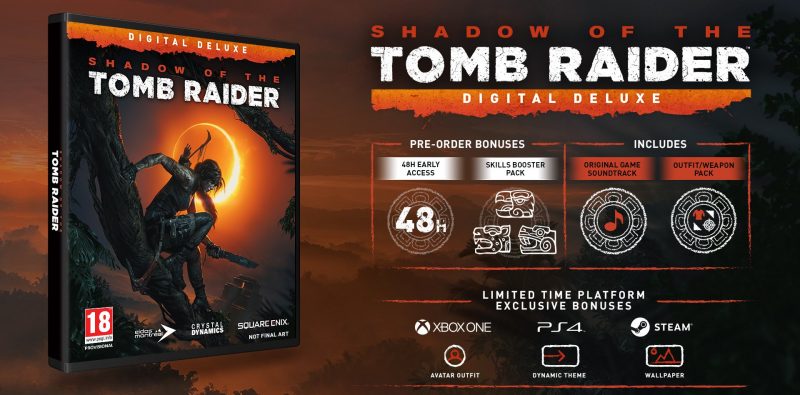 The Digital Deluxe Edition costs $69.99 and includes these extras:
48-hour early access (with pre-order)
Platform-exclusive bonuses (as outlined above)
Skills Booster Pack
Additional weapon and outfit
Digital OST
Croft Edition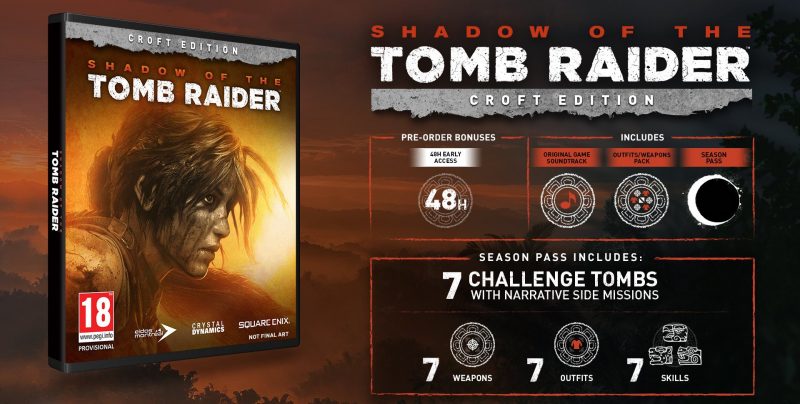 The Croft Edition is available either digitally or physically as Croft Steelbook Edition for $89.99, and comes with the following:
Limited Edition Steelbook (retail version only)
48-hour early access (with pre-order)
Platform-exclusive bonuses (with pre-order)
Skills Booster Pack
3 additional weapons and outfits
Digital OST
Season Pass:

7 challenge tombs – either co-op or single player
7 new weapons, outfits, and skills
Multiple narrative side-missions
(1 of each of the above is exclusive to Season Pass owners)
The Season Pass can also be purchased separately for $29.99. It will provide a total of seven content packs, starting October 2018 and ending April 2019, according to the official DLC calendar.
Ultimate Edition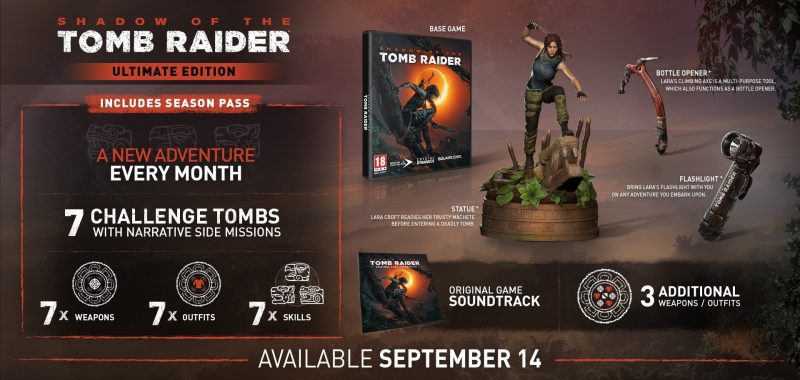 Lastly, there's the $199.99 "Ultimate" Collector's Edition exclusive to Square Enix Store. It contains everything listed under Croft Edition, plus three physical collectibles:
Statue of Lara Croft readying her machete
Bottle opener styled after Lara's climbing axe
Vertical grip Tomb Raider-themed flashlight
Shadow of the Tomb Raider will be out on September 14, 2018 worldwide, launching simultaneously on Xbox One, PlayStation 4, and PC via Steam.
Check out our other upcoming action games and upcoming pc games.