This game was released on May 08, 2018 and is no longer available to pre-order. Any incentives that were offered are listed below.
Shantae: Half-Genie Hero is a Kickstarter-funded 2.5D platformer developed by WayForward Technologies. In it players take control of Shantae, the titular half-genie, and embark on a quest to save the Scuttle Town and Genie Realm from the forces of evil.
As the game is already out on all current platforms, this post is concerned specifically with the upcoming physical Ultimate Edition from XSEED, which contains every single DLC released thus far, including the new Friends Mode and Costume Mode. Furthermore, there are limited Day One bonuses to be had, as outlined after the jump.
Pre-order Bonuses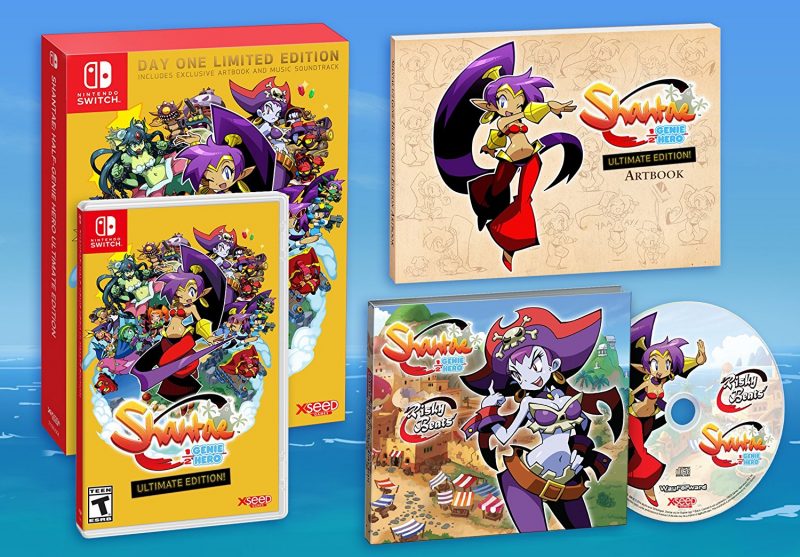 Pre-ordering Shantae: Half-Genie Hero Ultimate Edition, which can be done through retailers like Amazon or GameStop for $39.99, nets you the limited Day One edition with a 30-song "Risky Beats" soundtrack CD and a new art book. Only Nintendo Switch physical edition is available in the US, while Europe also gets PS4 version from a different publisher.
The all-inclusive Ultimate Edition is also available digitally – minus the Day One bonuses depicted above, naturally. At the time of writing, pre-purchasing from Microsoft Store grants a 10% discount, bringing the price down from $29.99 to $26.99.
Shantae: Half-Genie Hero Ultimate Edition will be out for Nintendo Switch on May 8, 2018.
Check out our other upcoming platformer games and upcoming nintendo switch games.