This game was released on March 05, 2013 and is no longer available to pre-order. Any incentives that were offered are listed below.
SimCity is a reboot of the popular city builder series from Maxis. The game uses a new, powerful simulation engine, and gives the players more freedom with upgradable civic buildings and freeform roads. SimCity also adds city specializations such as Mining, Electronics, and Gambling, which can be mixed together. The game requires an online connection, and allows the players to trade goods in a global market and compete for the top positions on the leaderboards.
Limited Edition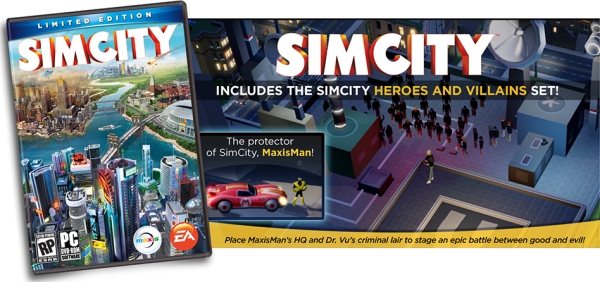 Pre-order SimCity to get the Limited Edition with the Heroes and Villains set, which includes two new characters (MaxisMan and Dr. Vu), as well as their respective headquarters (Super Hero HQ and Evil Villain Lair). MaxisMan protects your Sims from criminals, while Dr. Vu recruits henchmen and goes on an occasional crime spree.
The following retailers are also offering additional bonuses:
Origin: Plumbob Park makes your Sims happier and improves your Mayor rating.
Amazon and Walmart: $20 store credit.
See a preview of the Heroes & Villains set in the video below.
Digital Deluxe Edition
Exclusive to Origin, this downloadable edition includes British, German, and French city sets. Build landmarks like Big Ben, Eiffel Tower, or Brandenburg Gate, and watch your city adopt the architectural style of the respective country. The transportation is also transformed: Britain gets its signature double-decker buses, while German-style cities build high-speed rail.
SimCity is scheduled to be released on March 5, 2013 for Microsoft Windows.
Check out our other upcoming simulation games and upcoming pc games.