This game was released on May 04, 2012 and is no longer available to pre-order. Any incentives that were offered are listed below.
Sniper Elite V2 is a remake of the 2005 game by the British Rebellion studio. It is a tactical shooter where the players assume the role of Karl Fairburne, an American sniper tasked with eliminating or capturing the German scientists working on the V-2 missile program during the World War II.
Like its predecessor, the game emphasizes stealth, tactical thinking, and planning. However, to make things more interesting, Sniper Elite V2 introduces a brutal kill cam that shows the bullet's passage through the body in slow motion X-ray vision.
Preorder bonus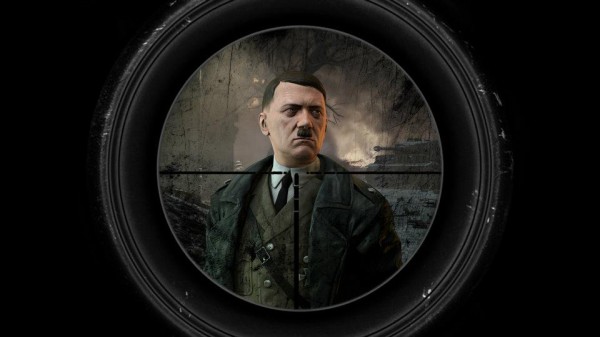 Gamers who pre-order Sniper Elite 2 for Xbox 360, Playstation 3 or the PC will receive two additional weapons (the Soviet semi-automatic battle rifle SVT-40 and the standard German service rifle Kar 98) as well as a very special bonus level. Aptly titled "Kill Hitler DLC", this mission involves assassinating the Führer:
You have one chance to change history – intel has been received that Hitler is returning from Berchtesgaden to Berlin via his personal train. Players must intercept the train as it waits at the station and take down the Fuhrer as he hastily makes way for the station on foot. There is only a single opportunity for players to do what so many wish had been done – take out the leader of the Third Reich.
The information is quoted from the official Sniper Elite V2 Facebook page. The bonus mission is available at select retailers; the ones confirmed so far are:
United Kingdom
Amazon.co.uk
Play.com
HMV
TheHut
We'll update this list once more information is available, so watch this space for updates.
Gameplay trailer
You have to make every shot count in this upcoming tactical shooter:
The expected release date of Sniper Elite 2 is May 1, 2012 in North America. 505 Games is responsible for publishing the console versions, with Rebellion Developments publishing the PC version on their own.
Check out our other upcoming shooter games and upcoming pc games.