This game was released on February 14, 2017 and is no longer available to pre-order. Any incentives that were offered are listed below.
Sniper Elite 4 is a tactical shooter from English studio Rebellion Developments. It plays much like its predecessors, with a third-person, over-the-shoulder perspective except when sniping. The series' signature X-Ray Kill Cam has been expanded to also include Shrapnel and Melee kills. Tagging enemies through the binoculars now provide short biographies, making the kills more personal. The AI is also improved, and killing an officer, for example, will have a larger effect on the enemy army.
The game takes place in 1943 Italy, with protagonist Karl Fairburne once again returning to fight the Axis forces. The maps are larger and have more verticality, including diverse locations like coastal towns and mountainous forests.
Pre-order bonuses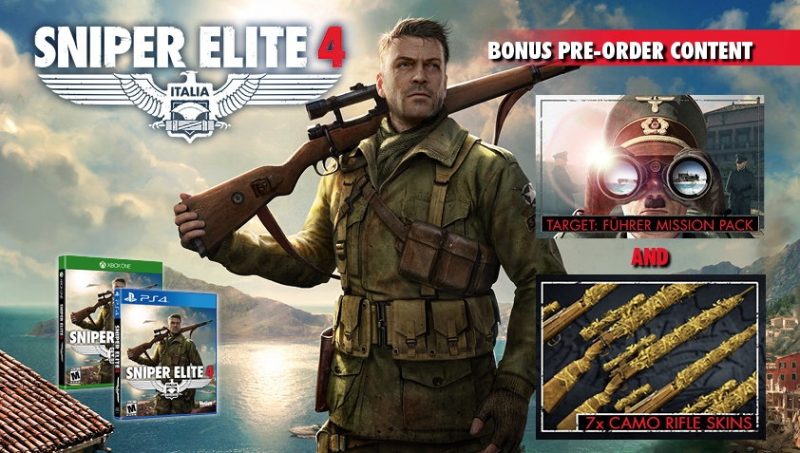 Pre-order Sniper Elite 4 to receive an automatic upgrade to the Day One Edition depicted above. The following bonuses are included:
Target: Führer (Campaign DLC): tasked with infiltrating a secret U-Boat installation, Lieutenant Karl Fairburne discovers the identity of a visiting dignitary from Berlin. His mission has become… Target: Führer!
Camouflage Rifles Skin Pack (Weapons DLC): blend into the lush environment of WW2 Italy with highly detailed camouflage wraps for all seven of Sniper Elite 4's starting rifles for use in any singleplayer, co-op or multiplayer mode.
Deluxe Edition
The digital Deluxe Edition costs $89.99 and bundles the base game with a Season Pass "at a great saving", according to the publisher. The Season Pass gives players access to all the game's future DLC packs, including both single- and multiplayer content. (Multiplayer map packs, however, will be free for the whole community.)
Target: Führer trailer
It has become something of a tradition for Sniper Elite games to include a mission to kill Hitler, and the latest installment is no exception.
Sniper Elite 4 is scheduled to launch on February 14, 2017 for current-gen consoles and Steam. The PC version will support DirectX 12 at launch.
Check out our other upcoming shooter games and upcoming pc games.