This game was released on November 07, 2017 and is no longer available to pre-order. Any incentives that were offered are listed below.
Sonic Forces is the latest installment in Sega's most popular action platformer franchise. It combines three gamestyles: Classic Sonic, which is played in a side-scrolling 2D view; Modern Sonic with 3D levels similar to those in Sonic Colors or Sonic Generations; and, lastly, Hero Character stages played with a custom character. There also are Tag Team levels, where Sonic and the hero character work together.
When it comes to creating their own character, the player may pick one of the seven archetypes, each with its own special ability, and then further customize their avatar with costumes and accessories. In fact, some exclusives costumes are offered as a pre-order bonus – more on that after the jump.
Physical Edition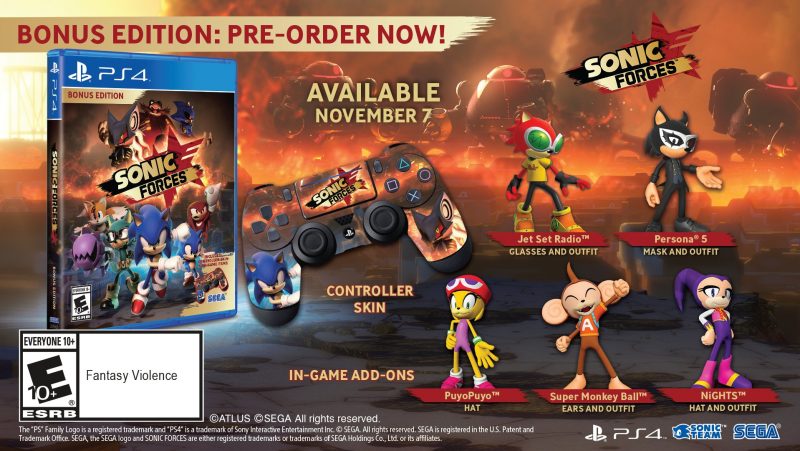 Pre-order the physical version of Sonic Forces to receive the Bonus Edition, which includes a controller skin and in-game outfits for your custom character based on various Sega and Atlus games:
Jet Set Radio Glasses and Outfit
Persona 5 Mask and Outfit
Puyo Puyo Hat
Super Monkey Ball Ears and Outfit
Nights into Dreams Hat and Outfit
In addition, you'll receive the Episode Shadow add-on, which comes with three additional Shadow stages, and the ability to replay 10 Modern Sonic stages as Shadow. The bonus will also apply to everyone who pre-ordered the physical Bonus Edition before Episode Shadow was announced, according to Sega.
Digital Edition
The digital Bonus Edition also includes the aforementioned Sega & Atlus costumes, as well as the Episode Shadow DLC. The one notable difference is that it additionally comes with the coveted Shadow Costume to outfit your Hero Character. Pre-purchasing via PSN also grants a Heroes and Villains theme and a Modern Sonic avatar.
Sonic Forces is scheduled to launch on November 7, 2017 worldwide.
Check out our other upcoming platformer games and upcoming nintendo switch games.