This game was released on February 03, 2012 and is no longer available to pre-order. Any incentives that were offered are listed below.
SoulCalibur V is an upcoming console fighting game from the popular SoulCalibur franchise by Namco Bandai. It offers a roster of about 30 fighters, half of which are new. The game also includes a guest character: master assassin Ezio Auditore, the protagonist of Assassin's Creed series.
SCV makes numerous changes to the gameplay compared to the previous installment, such as replacing the Soul Gauge with a new Critical Gauge that needs to be charged up, and can be used to perform powerful Critical Edge attacks. Guard Impacts also work differently, and block attacks regardless of their height. New in Soul Calibur V is the Quick Step mechanic, which allows you to sidestep and dodge vertical attacks.
Soul Calibur V pre-order bonuses
Preorder SoulCalibur V at one of the following US retailers to get some neat bonuses:
Gamers in the UK can get Dampierre by pre-ordering at Play, TheHut, and GAME.
Collector's Edition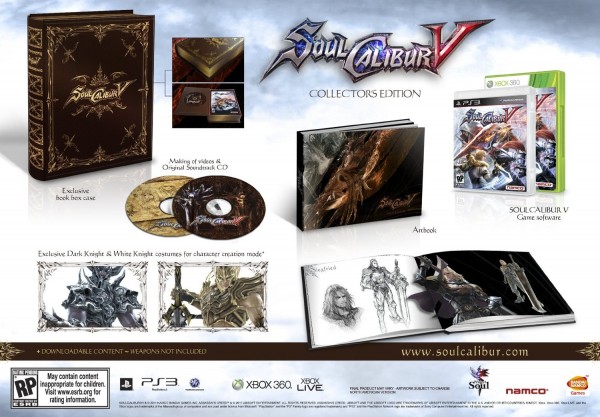 SoulCalibur V Collector's Edition retails for $79.99 and contains the following items:
Exclusive book box packaging
Hardcover art book featuring artwork from Soul Calibur V
Making-of videos
Original Soundtrack CD
White Knight and Black Knight armor set DLC for the Character Creation Mode
European CE of Soul Calibur 5 is very similar, but it does include two extra items.
Gamescom 2011 trailer
A preview of the game, as shown at the Gamescom 2011 convention.
Soul Calibur V is scheduled to release on January 31st in the US, and February 3rd in Europe.
Check out our other upcoming fighting games and upcoming playstation 3 games.