This game was released on November 13, 2018 and is no longer available to pre-order. Any incentives that were offered are listed below.
Spyro Reignited Trilogy is a collection of three fully remastered games following the titular purple dragon Spyro – namely Spyro the Dragon, Spyro 2: Ripto's Rage, and Spyro: Year of the Dragon. Besides the modernized visuals and mechanics, the game also features a remastered score and voice acting redone by Tom Kenny.
Spyro Reignited Trilogy is developed by Toys For Bob and will be out on PlayStation 4 and Xbox One consoles.
Pre-order Bonuses (Switch)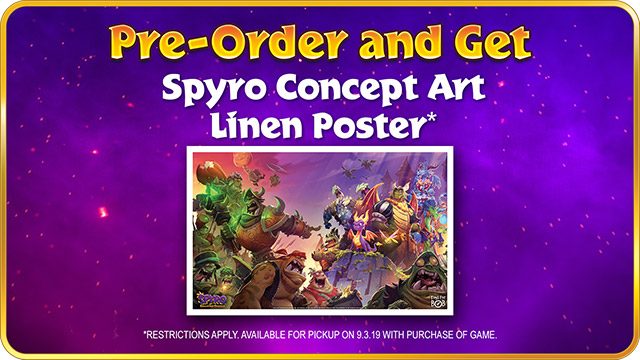 For the upcoming Switch release on September 3, 2019, GameStop is offering an exclusive linen poster pictured above as a pre-order bonus.
Pre-order Bonuses (PS4, Xbox One)
Pre-ordering Spyro Reignited Trilogy via PSN nets you a dynamic Theme and an Avatar, as depicted above.
As for retailer-exclusive bonuses, GameStop is offering a limited edition Spyro keychain: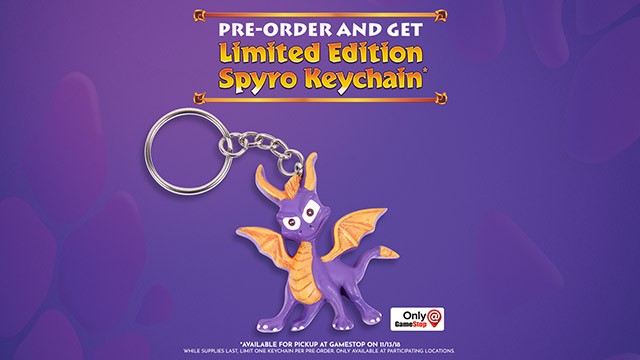 Previously, the retailer gave away a collectible Mini Blocks figurine of Spyro during its Crash Bandicoot & Spyro Weekend Event:
Visit your local GameStop starting on June 29, 2018 and get a Collectible Micro Blocks Figurine as a bonus with your pre-order of Spyro Reignited Trilogy for pick-up at a GameStop near you. Quantities are limited, so act fast. While supplies last, see associate in-store for details.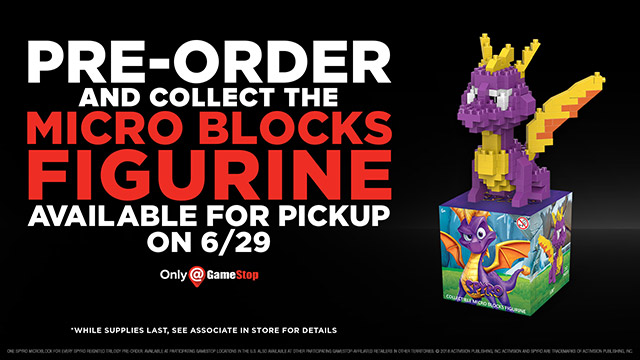 Spyro Reignited Trilogy is scheduled to be released on November 13, 2018.
Check out our other upcoming platformer games and upcoming playstation 4 games.