This game was released on June 28, 2016 and is no longer available to pre-order. Any incentives that were offered are listed below.
Star Ocean: Integrity and Faithlessness is the fifth main installment in the Star Ocean action RPG franchise by tri-Ace. The sci-fi themed game features character designs by akiman (Akira Yasuda), notable for his work on Street Fighter and other successful series. It is published by Square Enix for the PlayStation 4 consoles in the West (only Japan gets a PS3 release).
Chronologically, the upcoming title takes place between the second and the third installments (Star Ocean: The Second Story and Star Ocean: Till the End of Time.) New features include seamless transitions into battles and events, and an increase to party size which can now have up to 7 characters. Familiar mechanics such as Private Actions or Item Creation will also be making a return, with some changes.
Pre-order bonuses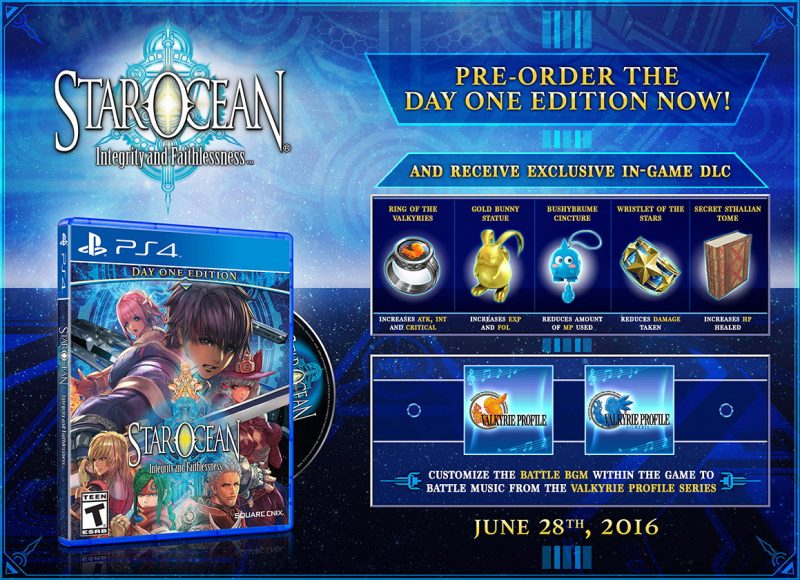 Pre-order the upcoming JRPG from the Square Enix online store or participating retailers for a free upgrade to the Day One Edition with five DLC items and two additional battle music themes:
The Ring of the Valkyries: increases ATK, INT, and CRITICAL
Gold Bunny Statue: increases EXP and FOL
Bushybrume Cincture: reduces amount of MP used
Wristlet of the Stars: reduces damage taken
Secret Sthalian Tome: increases HP healed
Battle BGM from Valkyrie Profile and Valkyrie Profile 2: Silmeria
Collector's Edition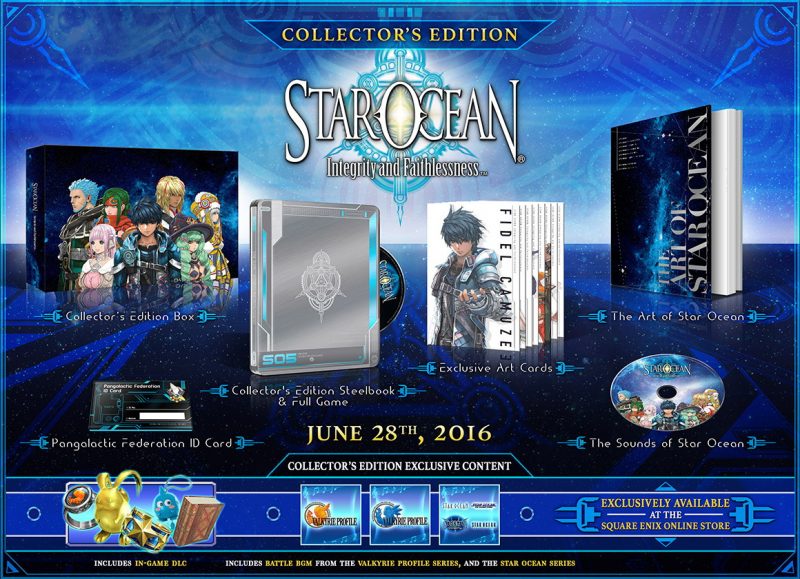 Exclusive to the Square Enix online store, this edition costs $110 and comes with the following:
Collector's edition box featuring the main cast
Collector's edition SteelBook
"The Art of Star Ocean", a 80-page hardcover art book with artwork from the entire series
"The Sounds of Star Ocean", a music sampler with 16 tracks from composer Motoi Sakuraba
Eight art cards featuring character illustrations by akiman
A Pangalactic Federation ID Card
Five in-Game DLC items (same as in the Day One Edition)
Six battle music themes from Valkyrie Profile and previous Star Ocean titles
Only 7,500 units of this edition will be available.
Star Ocean: Integrity and Faithlessness is scheduled to be launched on June 28, 2016 in North America, and July 1 in Europe.
Check out our other upcoming action games and upcoming playstation 4 games.