This game was released on November 17, 2015 and is no longer available to pre-order. Any incentives that were offered are listed below.
Star Wars: Battlefront is an upcoming reboot of the original series sharing the same name. Developed by EA's DICE, it focuses entirely on multiplayer, offering competitive game modes with up to 40 people as well as online and offline co-op missions. Those who prefer the single-player experience need not despair, however, for the new title allows them to complete the aforementioned missions with the help of bots.
Much like its predecessor, the new Battlefront also features several planets like Hoth, Endor, and Tatooine, iconic Star Wars vehicles like speeder bikes, AT-ATs, X-wings, TIE fighters, and more. Certain things like space battles and the Galactic Conquest modes from the old Battlefront games won't be available at launch, although the developers don't seem to discount the idea of adding the former some time in the future. As for gameplay, there will be both first- and third-person perspectives, presumably changeable on-the-fly.
Pre-order bonuses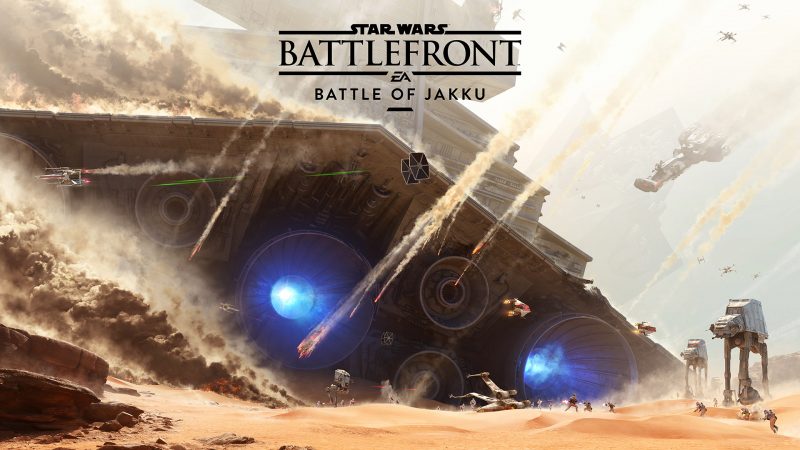 Pre-order Star Wars: Battlefront at any participating retailer to get access to the Battle of Jakku DLC one week before the public release on December 8. This free downloadable content includes two maps on the desert planet of Jakku, which is featured in the upcoming Star Wars: Episode VII – The Force Awakens movie.
As for exclusive bonuses, GameStop is offering a double-sided poster with all editions of the game (according to the website, quantities are very limited).
Deluxe Edition
The $69.99 Deluxe Edition grants instant access to DL-44 blaster, Ion Grenade, and Ion Torpedo in-game items. The player also gains Ion Shock and Victory exclusive emotes. Available on all platforms (PC version is exclusive to Origin).
Reveal trailer
Early in-engine footage showing off the vehicles and the characters from the upcoming game:
Star Wars: Battlefront is scheduled to be released on November 17, 2015 in North America for Xbone, PS4, and Windows platforms. UK release will follow three days later.
Check out our other upcoming action games and upcoming pc games.