This game was released on February 19, 2019 and is no longer available to pre-order. Any incentives that were offered are listed below.
Steins;Gate Elite is a visual novel developed by Mages (formerly 5pb) and published by Spike Chunsoft as a part of the Science Adventure series. It follows a ragtag group of tech-savvy students who discover a means to change the past and get in over their heads when agents of SERN, an organization hellbent on world domination, come knocking on their door.
Steins;Gate Elite is a fully-animated remake of the original 2009 title, reusing footage from the Steins;Gate TV series, as well as adding entirely new animation by White Fox studio for the routes and content that weren't adapted in the anime.
Pre-order Bonuses
The bonuses you get for pre-ordering Steins;Gate Elite depend on the platform.
PlayStation 4 pre-orders receive a bonus spin-off visual novel, Steins;Gate: Linear Bounded Phenogram, that consists of eleven side stories set in alternate word lines: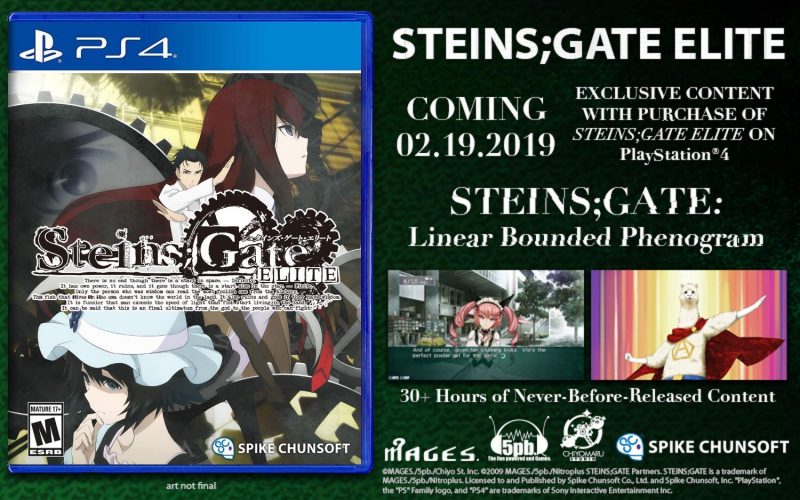 Nintendo Switch pre-orders instead receive a standalone game 8-Bit ADV Steins;Gate, which lets the player explore Akihabara recreated in a charming retro style and solve a mystery in true mad scientist style: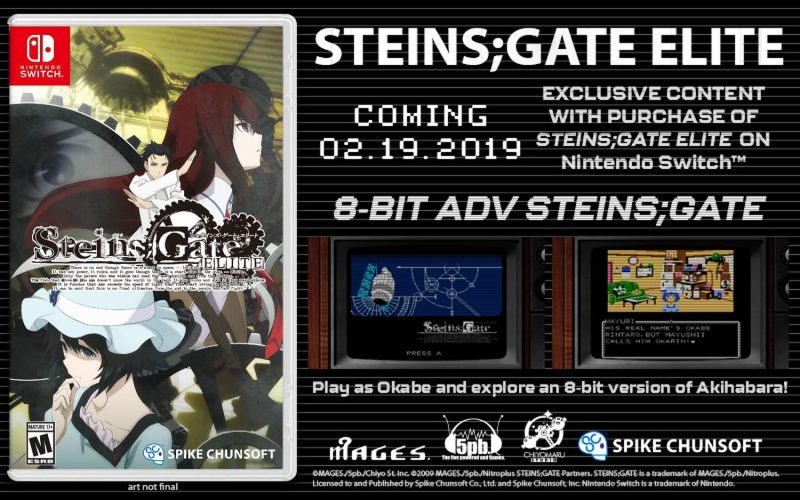 Lastly, PC gamers also get the Steins;Gate: Linear Bounded Phenogram spin-off VN bundled with their purchase on Steam.
Limited Edition ($89.99)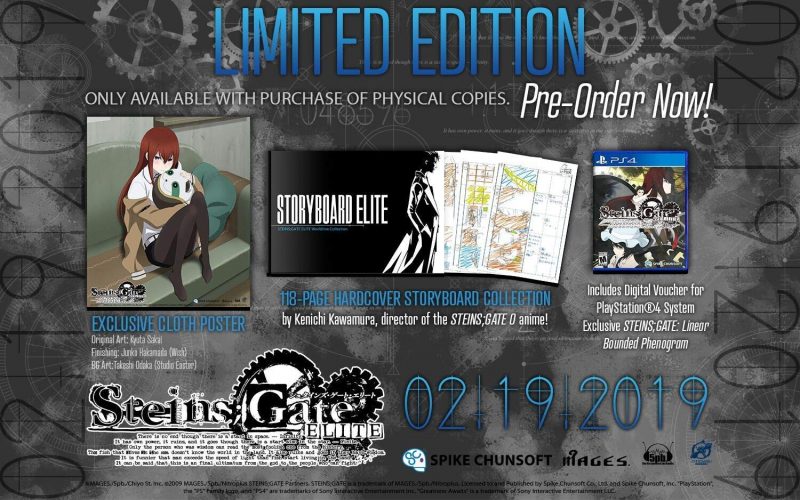 The Limited Edition, once again unsurprisingly available only for consoles, raises the price by thirty dollars and adds a 118-page hardcover storyboard collection as well as an exclusive cloth poster of everyone's favorite assistant Kurisu. Naturally, the platform-specific bonuses are also included.
Steins;Gate Elite is scheduled to launch on February 19, 2019 for PlayStation 4, Nintendo Switch, and Windows PCs via Steam.
Check out our other upcoming visual novel games and upcoming nintendo switch games.