This game was released on March 14, 2017 and is no longer available to pre-order. Any incentives that were offered are listed below.
Styx: Shards of Darkness is a fantasy-themed action RPG with a focus on stealth. Like its predecessors Of Orcs And Men and Styx: Master of Shadows, it is developed by Cyanide and published by Focus Home Interactive, both French companies. The game runs on a new engine (Unreal 4) and offers many improvements thanks to its bigger budget, according to the publisher.
Shards of Darkness picks up where Master of Shadows left off. After the fall of the Akenash tower, the eponymous goblin assassin, Styx, is forced out of hiding to infiltrate Körangar. While this city of the Dark Elves is supposedly impregnable, a diplomatic summit offers Styx a chance to slip in unnoticed. There, he learns that elves and dwarves, who are enemies of old, are joining forces against the goblins.
Pre-order bonuses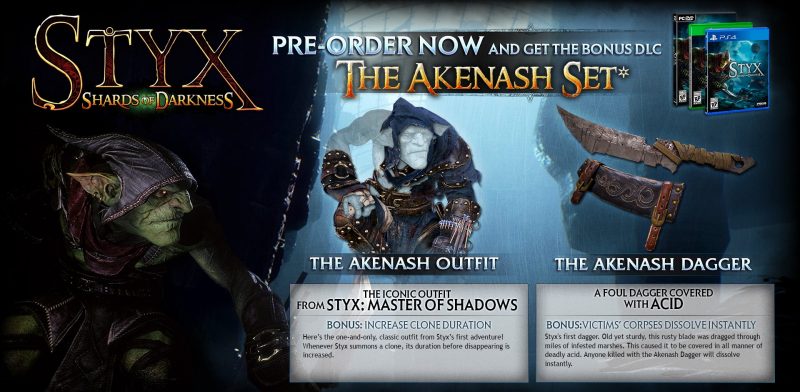 Pre-order Styx: Shards of Darkness for any platform and receive the Akenash Set:
Akenash Outfit: this iconic outfit from Master of Shadows increases the duration of clones.
Akenash Dagger: covered in deadly acid which makes its victims' corpses dissolve instantly.
This DLC will be available for purchase separately after launch. The game can be pre-purchased on Steam with a 10% discount.
Art of Stealth trailer
Styx: Shards of Darkness is going to launch in March 2017 on current-gen consoles and Steam.
Check out our other upcoming action games and upcoming pc games.