This game was released on January 24, 2017 and is no longer available to pre-order. Any incentives that were offered are listed below.
Tales of Berseria is the 16th main entry in the Tales JRPG franchise. It is developed and published by Bandai Namco for the Playstation 4 consoles and Windows. The game's world is shared with that of Tales of Zestiria, although Berseria takes place in the distant past, in a country called the Holy Midgand Empire.
The Linear Motion Battle System makes a return in the upcoming title, with the addition of a new Soul Gauge gameplay mechanic, which affects how many artes a character can chain in a single combo. Souls can also be used to enter the Break Soul mode which grants powerful effects unique to each character.
Pre-order bonuses
PowerUp Rewards Pro members at GameStop get a Bienfu 8-bit Retro Keychain when pre-ordering Tales of Berseria.
Collector's Edition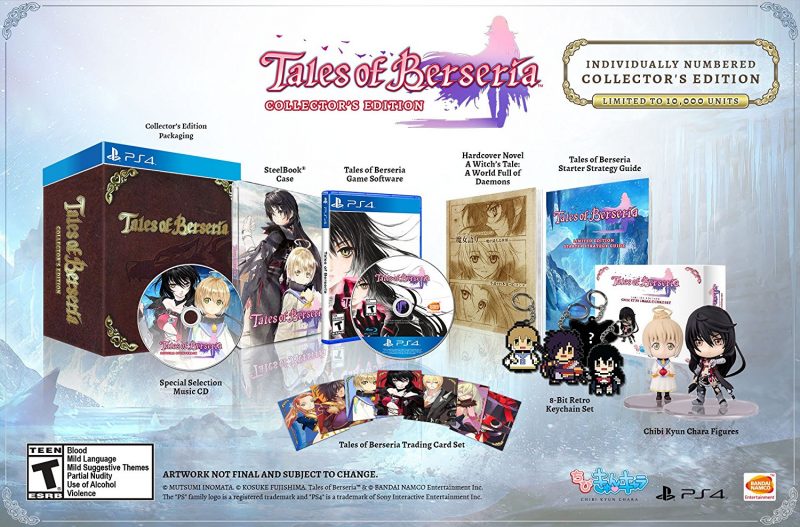 The $150 Collector's Edition is limited to 10,000 units. It contains the following goodies in addition to the game itself:
SteelBook case
Velvet and Laphicet Chibi Kyun Chara figures
8-Bit retro keychain set
Special Selection Music CD
"A Witch's Tale: A World Full of Daemons" prequel novel
Trading card set
Starter strategy guide
In the States, the release date of Tales of Berseria is set for January 24, 2017. The game will be out on Steam on January 27. System requirements for PC can be found on the official blog.
Check out our other upcoming rpg games and upcoming pc games.