This game was released on December 02, 2014 and is no longer available to pre-order. Any incentives that were offered are listed below.
The Crew is an MMO racing game developed by European video game studios Ivory Tower and Ubisoft Reflections. It requires no monthly fee to play.
The game takes place in the United States and offers a massive open-world environment to drive across, a multitude of cars that can be tuned and customized, and various challenges and activities to keep the players occupied. There are missions ranging from delivery to race and takedown, different mini-games for testing your skills as a driver, and PvP races.
Pre-order bonuses
First off, there's the Limited Edition (pictured above) which comes with 10,000 bonus Crew Credits and early unlocks for three cars: BMW Z4, Dodge Ram SRT 10, and Mini Cooper S. This pre-order bonus is available at Amazon, Walmart, Best Buy, Target, and Uplay.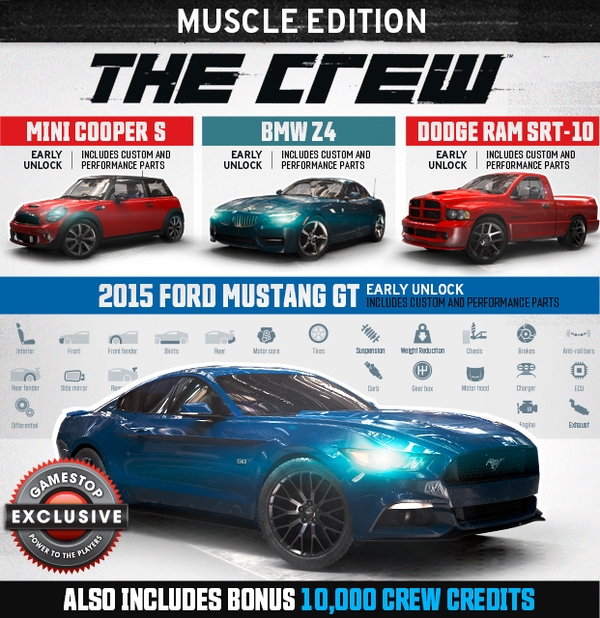 Then you have the Muscle Edition which offers all of the previously mentioned bonuses, plus an early unlock of the 2015 Ford Mustang. This one's available exclusively at GameStop.
Playground trailer
The trailer promises 1900 square miles of land filled with content like missions and challenges.
After a small delay, the game will be released for Windows and next-gen consoles on December 2nd, 2014 worldwide. Ubisoft has also confirmed an Xbox 360 release, the only previous-gen console that will be adding The Crew to its list of games.
Check out our other upcoming racing games and upcoming pc games.