This game was released on February 10, 2012 and is no longer available to pre-order. Any incentives that were offered are listed below.
Darkness II is an upcoming sequel to the gothic first-person shooter, based on a comic book series of the same name. The plot of the game picks up two years after the events in the original, with Jackie as the Don of the Franchetti family. After an attempt on his life, Jackie cannot contain the Darkness anymore and sets out on a merciless hunt for his attackers.
New in Darkness II is Quad-Wielding, which allows you to use your Demon Arms while firing two weapons at the same time (you know, because dual wielding just isn't cool enough). More brutal executions are included, such as promisingly-named "Wishbone" and "Anaconda". The visual style of the game has also changed, with cel-shaded textures resulting in a more comic-book-like look (scroll down to the trailer to see a preview).
Darkness II Limited Edition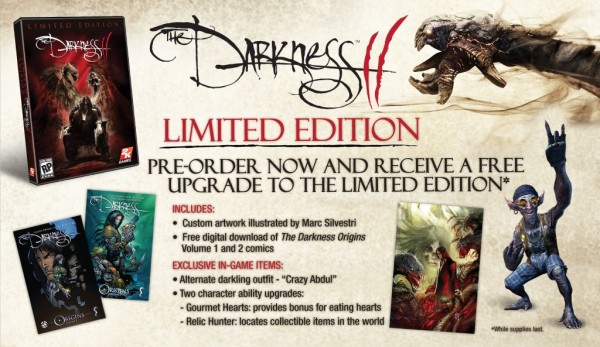 Pre-order Darkness II and you will get a free upgrade to Limited Edition which includes the following bonuses:
A poster with artwork by Marc Silvestri
Digital download of The Darkness Origins volume 1 and volume 2 comics
An alternate outfit for your darklings – "Crazy Abdul"
Two ability upgrades for your character:

Gourmet Hearts gives you an additional bonus for eating hearts
Relic Hunter helps you find collectible items in the game world
The official website lists Amazon, BestBuy, Gamestop, and Walmart as Limited Edition preorder sources in the US. It doesn't look like there are any exclusive incentives for this game.
What is the Darkness?
This stylish trailer gives you a recap of the story, as well as some background on the Darkness as an entity itself:
Darkness 2 is going to be released on February 7th, 2012 in the US and February 10th in Europe for consoles as well as the PC.
Check out our other upcoming horror games and upcoming pc games.