This game was released on September 22, 2022 and is no longer available to pre-order. Any incentives that were offered are listed below.
Dive into a gritty era of great turmoil and war in The DioField Chronicle, a tactical action RPG developed and published by Square Enix. For years and years, the world has been in a state of constant conflict with chaos ruling the day and no sign of an end in sight. This forces a team of highly skilled mercenaries to band together to form an elite group known as "Blue Fox". Their goal? to act as a beacon of hope for the world in its darkest hours.
The DioField Chronicle will be available on PlayStation 4, PlayStation 5, Xbox One, Xbox Series X|S, Nintendo Switch, and Windows PC this Autumn.
The DioField Chronicle adds a new spin to tactical battles by introducing a dynamic battle system that combines command-based tactics with real-time action. Battles are intense and the stakes are higher as enemies attack constantly limiting your time to plan a strategy.
Oversee your strategies unfold as a general would, through the realistic "Diorama" view which gives you an overhead look at the environment of the island of DioField.
Pre-order Bonuses
If you make a purchase through these links, we may get a share of the sale.
Standard Edition Pre-order ($59.99)
When you pre-order the Standard Edition of The DioField Chronicle you get exclusive in-game items including:
Weapon: Rhopasto Knife (Standard Edition Early Purchase Exclusive Colour)
Accessory: Recruit's Bangle
Digital Deluxe Edition ($74.99)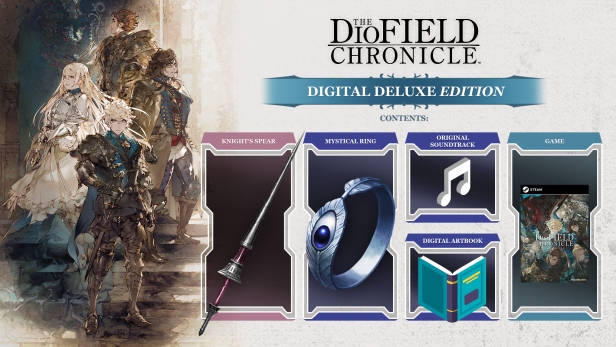 The Digital Deluxe Edition of The DioField Chronicle is the most content-filled version of the game and comes with a handful of exclusive content and perks such as:
The DioField Chronicle PS4 & PS5
Weapon: Knight's Spear
Accessory: Mystical Ring
Original Soundtrack
Digital Artbook
Early Purchase Bonus
2 Days Early Access
PlayStation
Xbox
Windows PC
Nintendo Switch
The DioField Chronicle will be released on September 22nd, 2022, and will be playable on PlayStation 5, PlayStation 4, Xbox Series X|S, Xbox One, Nintendo Switch, and Windows PC
Check out our other upcoming action games and upcoming playstation 4 games.