This game was released on December 12, 2017 and is no longer available to pre-order. Any incentives that were offered are listed below.
The End is Nigh is a precision platformer developed by Edmund McMillen, the creator of The Binding of Isaac, in collaboration with Tyler Glaiel. You play as Ash, one of the few things that survived (sort of) the end of the world, and set out on a quest to make a friend. The game boasts over 600 levels, 12 chapters, 20 mini-games, and hidden extras.
At the time of writing, The End is Nigh has been out on Steam for over three months, and received a "Very Positive" rating from the users. This article is concerning the upcoming retail release for Nintendo Switch, and the accompanying pre-order incentives.
Pre-order Bonuses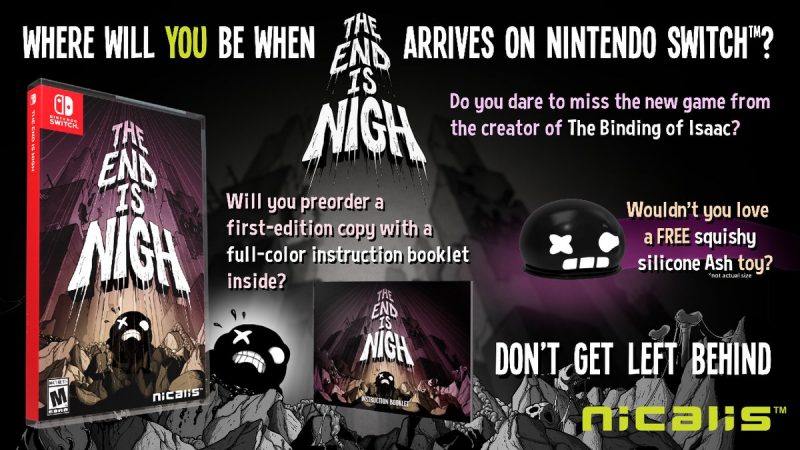 Nicalis is known for including a little bonus with the games they publish for Nintendo Switch, and The End is Nigh is no exception: pre-ordering a copy will net you a full-color instruction manual and a squishy silicone Ash toy. This First Edition will be available while supplies last.
The game will be out for Nintendo Switch on December 12, 2017
Check out our other upcoming platformer games and upcoming nintendo switch games.