This game was released on December 06, 2016 and is no longer available to pre-order. Any incentives that were offered are listed below.
The Last Guardian is a fantasy action-adventure game with puzzle elements developed by genDESIGN and SIE Japan Studio. Its director and designer is Fumito Ueda, who is known for his work on Ico and Shadow of the Colossus. The Last Guardian is said to be heavily influenced by these two titles in terms of style and gameplay elements.
The game follows a young boy who befriends a huge winged beast called Trico. The two work together to escape a giant castle where they're both held prisoner. The players will have to take care of Trico and also use him to complete puzzles. For example, they might throw a barrel to gain Trico's attention and make him move to a specific location.
Pre-order bonuses
Pre-order The Last Guardian and receive a digital Mini Soundtrack (includes four tracks) and a PS4 theme.
Those looking to acquire the full soundtrack might be interested in the premium edition depicted below.
Collector's Edition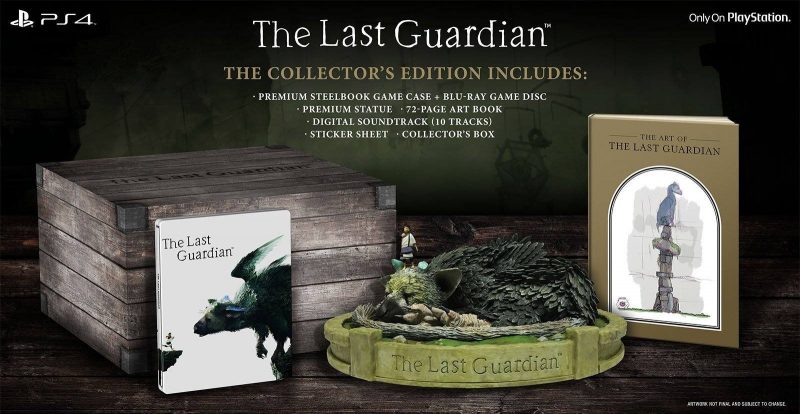 The Collector's Edition is priced at $119.99 and comes with the following extras:
Collector's box
Premium SteelBook game case
Premium statue
72-page art book
Digital soundtrack (10 songs)
Sticker sheet
E3 2016 trailer
The Last Guardian has now been in development for nearly a decade, and will finally be released on December 6 this year.
Check out our other upcoming action games and upcoming playstation 4 games.