This game was released on June 14, 2013 and is no longer available to pre-order. Any incentives that were offered are listed below.
The Last of Us is an upcoming survival horror / action game set in a post-apocalyptic United States. Twenty years ago, a mutated parasitic fungus infected and killed millions, essentially turning them into zombies. Most of remaining survivors live in quarantined areas under the harsh rule of US military. Joel (the playable character) escapes one of these areas, taking a 14-year-old Ellie (AI companion) with him as a favor to a dying friend. Outside the quarantine zone, they will face not only the Infected, but other Survivors as well. Furthermore, the military also seems intent on hunting Joel and Ellie down.
Pre-order bonuses
Two content packs are available to those who pre-order The Last of Us. First off is the Sights and Sounds Pack which is available at all participating retailers and includes the following:
Official soundtrack by Academy Award-winning composer Gustavo Santaolalla
PS3 dynamic theme showing Joel and Ellie in a ruined city
Two exlusive PSN avatars featuring Joel and Ellie in winter survival gear
The second bonus is the Survival Pack, which is available exclusively at GameStop. It includes various benefits for The Last of Us multiplayer:
Bonus experience points
Melee attack booster for more damage in hand-to-hand combat
Additional in-game currency
Special customizable multiplayer items
Two bonus skins for Joel and Ellie
Exclusive content aside, other bonuses include $10 Amazon Instant Video credit at Amazon, $20 in Reward Certificates for Gamers Club Unlocked members at Best Buy, and $4.99 VUDU Movie Credits at Walmart. Of course, all these retailers will give you the aforementioned Sights and Sounds Pack as well.
Survival Edition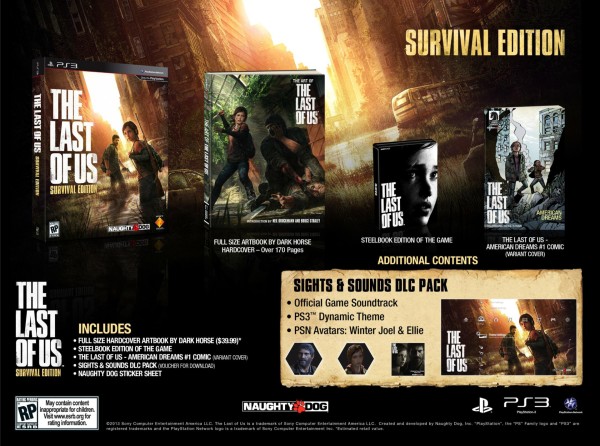 Survival Edition is the first of the two The Last of Us collectors' editions in North America. It comes with the following extras:
Steelbook package featuring Ellie and Joel
The Art of The Last of Us, a 170-page hardcover art book by Dark Horse
The Last of Us: American Dreams #1 comic by artist Faith Erin Hicks and The Last of Us Creative Director Neil Druckmann
Naughty Dog sticker sheet
Sights and Sounds DLC Pack
Survival Edition is available for $79.99 at participating retailers.
Post-Pandemic Edition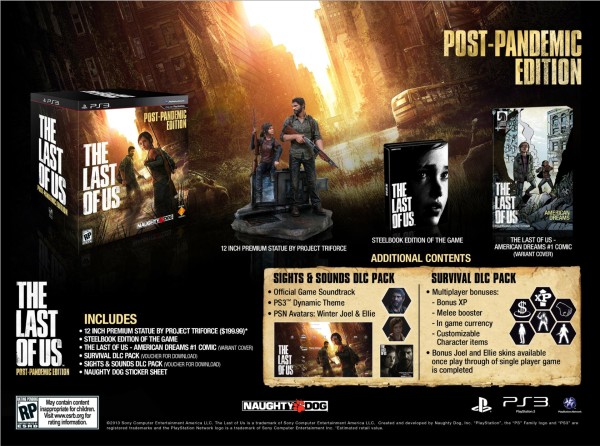 The Post-Pandemic Edition costs significantly more ($159.99) and includes the following:
12″ statue of Joel and Ellie by Project Triforce
Steelbook packaging
The Last of Us: American Dreams #1 comic
Naughty Dog sticker sheet
Both Sights & Sounds and Survival DLC Packs
Unlike Survival Edition, Post-Pandemic Edition can only be pre-ordered at GameStop.
Story trailer
The Last of Us is scheduled to release on June 14, 2013 worldwide.
Check out our other upcoming action games and upcoming playstation 3 games.