This game was released on February 20, 2015 and is no longer available to pre-order. Any incentives that were offered are listed below.
The Order: 1886 is a third-person action-adventure game developed by Ready at Dawn and published by Sony exclusively for their PS4 platform. Set in an alternate version of the Victorian-era London, it follows the titular Order, whose job it is to hunt down dangerous Half-Breeds such as Lycans. Empowered by a mystical substance called Blackwater and equipped with deadly weapons made possible thanks to the Industrial Revolution, the long-lived warriors of the Order are the only ones who can protect humanity against the Half-Breed threat.
The Order: 1886 features a "filmic" look achieved by using subtle film grain, chromatic aberration, and other effects. According to the developers, the 1920×800 resolution and 30 frame rate were also chosen for aesthetic reasons, although one could speculate that the costly particle effects and the high visual fidelity of the game are to blame.
Pre-order bonuses
First-off, we have the generic bonus available with all pre-orders of The Order: 1886. The Knight's Arsenal DLC gives players access to Red Lightning (Red Knight Uniform and Arc Rifle Prototype) as well Arsonist (Black Knight Uniform and Arsonist Rifle) Packs: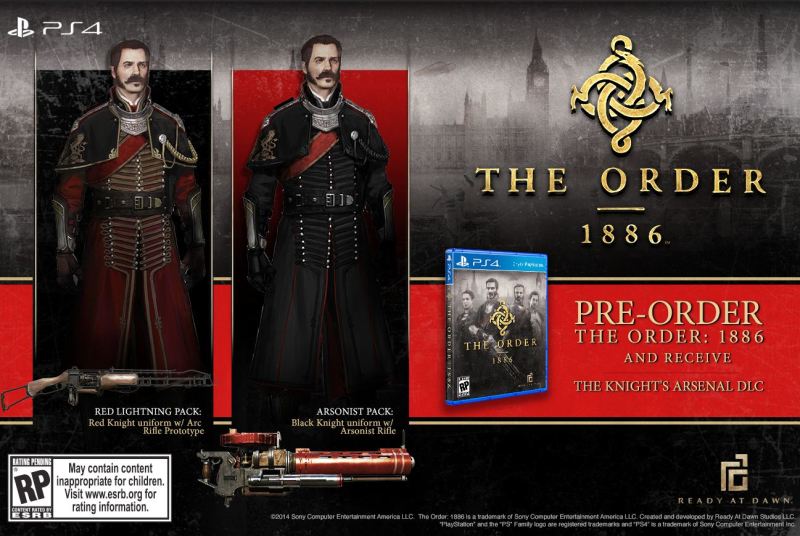 Then there's the GameStop-exclusive Knight's Endurance Pack, which includes a Desert Khaki Uniform, Endless Blackwater, and Blacksight Regeneration: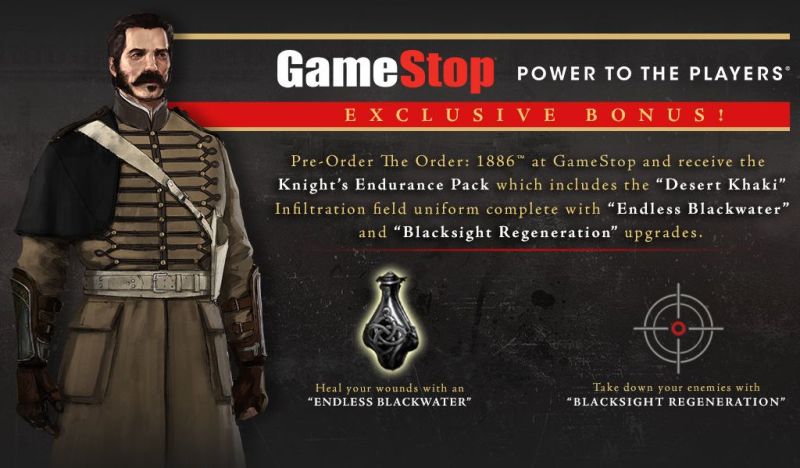 The game is also available in two different special editions in North America.
Collector's edition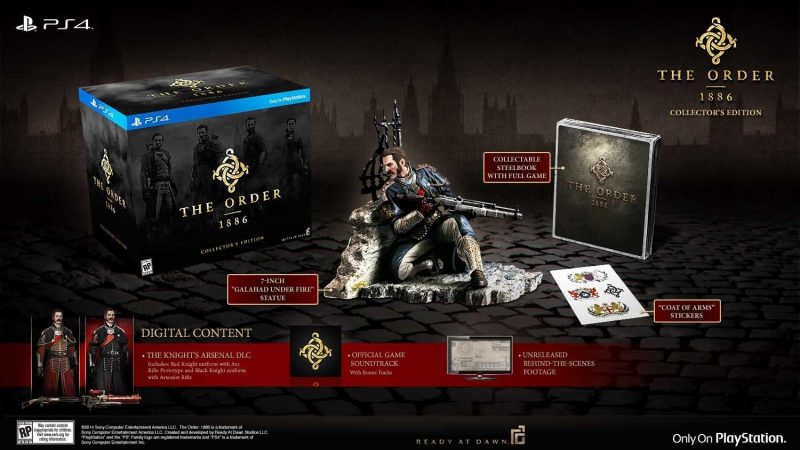 The $80 Collector's Edition of The Order: 1886 comes with the following extras:
SteelBook case
7-inch "Galahad Under Fire" statue
"Coat of Arms" stickers
Digital content:

Knight's Arsenal DLC
OST with bonus tracks
Behind-the-scenes footage
Premium edition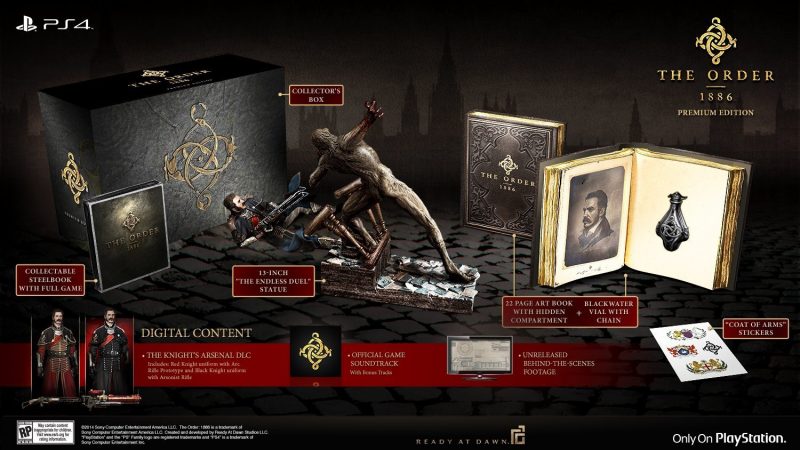 The $150 Premium Edition offers everything that its cheaper counterpart does except for the statue, which is replaced by a larger, 13-inch one named "The Endless Duel". The bundle also includes a collector's box and a 22-page art book with a hidden compartment, which contains a Blackwater vial pendant.
Announce trailer
The centuries-long struggle against the Half-Breeds has accelerated the technological progress, as evidenced by the retro-futuristic weapons wielded by Order's knights in the following trailer.
The game is scheduled to launch on February 20, 2015 worldwide.
Check out our other upcoming action games and upcoming playstation 4 games.