This game was released on May 16, 2017 and is no longer available to pre-order. Any incentives that were offered are listed below.
The Surge is a sci-fi themed action RPG developed by German studio Deck13 and published by Focus Home Interactive. The game is set in a dystopian world ravaged by war and global warming, and takes place in an automated industrial complex of mega-corporation CREO which has gone rogue. While the hostile mechanical monstrosities prowling the complex pose a lethal threat, the protagonist is an augmented, exo-suit wearing human who is up for the challenge.
The developers promise a hardcore and unforgiving, Souls-like experience where even the weaker enemies are deadly if the player isn't aware of their attack patterns and weaknesses. Innovative combat system allows the player to lop limbs off enemies in combat, and use the tech scrap to upgrade and modify their own gear.
Pre-order bonuses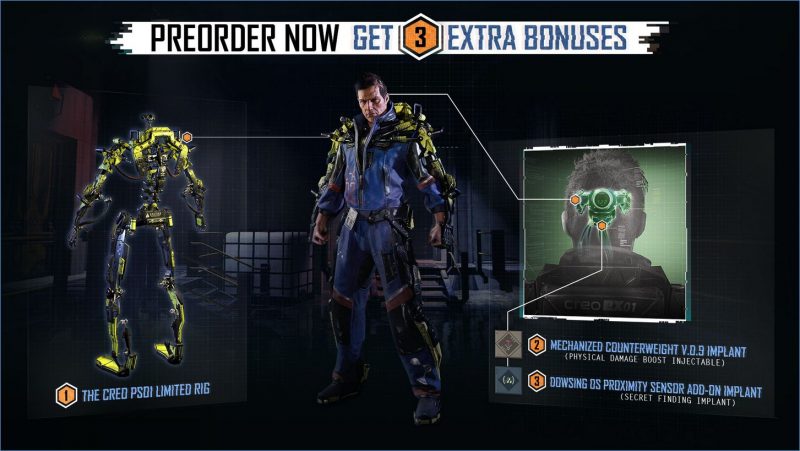 Pre-ordering The Surge gets you the "CREO Special Employee Kit" DLC with three in-game items to help you get started on your first day on the job:
The Cred PS01 Limited Rig
Mechanized Counterweight V.0.9 Implant (Physical Damage Boost Injectable)
Dowsing OS Proximity Sensor Add-on Implant (Secret Finding Implant)
As usual, pre-purchasing via PlayStation Store will also add a special theme on top of those.
Gameplay trailer
The Surge will be out on May 16, 2017 for PlayStation 4, Xbox One, and Windows.
Check out our other upcoming action games and upcoming pc games.