This game was released on May 17, 2011 and is no longer available to pre-order. Any incentives that were offered are listed below.
The Witcher, a bestselling PC RPG from the Polish company CD Projekt RED, is getting a sequel in May 2011. Titled The Witcher 2: Assassins of Kings, this game will once again put you in the shoes of the badass monster slayer, Geralt, and continue the story where the original left off. It will be possible to import your game saves, so the choices you made in the first part will be reflected in The Witcher 2.
The sequel will feature numerous improvements, such as better graphics, a more dynamic combat system, more armor types, and almost no loading screens. It is going to be fully localized in 5 different languages (Polish, German, Russian, English, and French). The plot of Assasins of Kings will be less linear and offer more different endings than the first game.
The Witcher 2 preorder details
CD Projekt seems to be going all out with their upcoming Witcher 2 release.  I can't remember any other recent video game that offered so many bonus goodies for the standard price of $50. The Witcher 2: Assassins of Kings is available for preorder in three different editions:
Premium Edition is actually the standard version of TW2. It comes with a lot of extra content: a making-of DVD, an original soundtrack CD, a world map, a 16-page game manual, a 96-page game guide, a pamphlet about an in-game character, a "cursed coin", and 2 papercraft figures (one of Geralt, and the other random). The pre-order bonus is a DLC which varies by vendor.
The retailers offering the Premium Edition are Amazon (Ultimate Swordman Suit DLC), GameStop (Mysterious Merchant) and others.
Digital Premium Edition includes digital versions of nearly everything offered by the regular Premium Edition: the making-of videos, MP3 soundtracks, downloadable PDF world map, game manual, guide, pamphlet and even the papercrafts (for you to print and assemble) are all there.
You can buy it at digital video game distributors like GamersGate (10% discount), GOG.com (no DRM, a classic RPG title for free), and Steam (achievements, Steam Cloud support).
Collector's Edition contains everything listed in the Premium Edition, plus: a ~200 page glossy artbook, a computer-generated sculpture of Geralt's head (marble imitation), a set of dice like those you've played with in The Witcher, a deck of playing cards with Dandelion's guide to winning at them, three stickers, additional papercraft dolls, and a Temerian Oren coin (different from the one that comes with the Premium Edition). Check out all the CE bonuses below: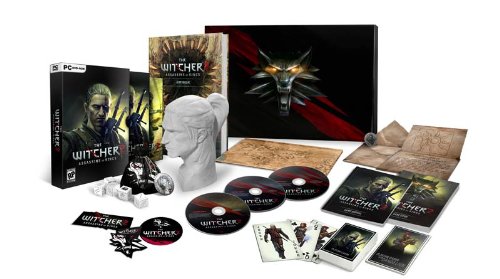 This truly massive Collector's Edition of The Witcher 2: Assassins of Kings comes with a price tag of $130. In addition to all the physical bonuses, it also includes an exclusive DLC: the Vernon Roche Commando Jacket that provides a boost to Geralt's sword skills. Some of the stores that offer Witcher 2 CE pre-orders are Amazon, Newegg, and Gamestop.
What's new in The Witcher 2
Unlike the first game which ran on a modified Aurora Engine from Bioware, TW2 will use CD Projekt's own RED Engine, something they proudly call "the best RPG engine in the world". According to the devs, it will help them avoid bottlenecks that caused various problems during the development of The Witcher. Not only will the sequel look better, it will also have only 4 loading screens in total (presumably, between the different Acts of the game). If you've played the original, you know that it had loading screens when moving between areas, entering houses and so on. It didn't bother me all that much since the load times were acceptable in the Enhanced Edition – but of course, it's better to not have any interruptions at all.
This new engine can also run on consoles. Tomek Gop, the Senior Producer at CD Projekt RED, says a console port of The Witcher 2 is not out of the question, although they want to finish the PC version first (source).
Another improvement that I'm really looking forward to is the more advanced combat. While the original game had excellent animations and an interesting leveling system, I've found the actual gameplay somewhat lacking. Thankfully, it looks like the combat in Assassins of Kings will be more engaging than simply timing your mouse clicks.
The Witcher 2 will also have a new dialogue system, apparently inspired by games like Mass Effect. The camera will be more dynamic, the dialogue options will show a general idea of what Geralt is going to say instead of the full phrase, and you'll only have limited time to make certain choices (such as ordering your friends to attack, similarly to interrupts in Mass Effect).
Developers say that despite all these changes, TW2 will remain an epic story-driven RPG, just like the hugely successful first game. As mentioned in the intro of this article, it will be even less linear than the first Witcher, meaning your choices will have immense and far-reaching consequences. The sequel will feature as many as 16 different endings (most likely several major ones, with some smaller differences).
Witcher 2 promo trailer
https://www.youtube.com/watch?v=Vth811Wfjnch
This trailer shows off some of the smooth gameplay and fluid animations in The Witcher 2. For more videos, news and other information about the game, visit the official homepage.
Check out our other upcoming rpg games and upcoming pc games.