This game was released on March 11, 2014 and is no longer available to pre-order. Any incentives that were offered are listed below.
Titanfall is a highly anticipated multiplayer first-person shooter developed by Respawn Entertainment for Xbox 360, Xbox One, and Windows platforms. The game centers around fast-paced 6v6 matches with players fighting both on foot as pilots, and inside giant mecha called Titans. There are different classes of Titans, such as the highly armored Ogres or agile Stryders; there also are several loadouts (which can be further customized) available for both pilots and Titans.
Incidentally, the game runs on the tried-and-true Source engine from Valve, reportedly chosen for its ability to maintain 60 FPS on previous-gen consoles.
Pre-order bonuses
You can earn some exclusive bonuses or get some store credit by pre-ordering at one of the following retailers:
Amazon: a Mini Prima Guide for Titanfall with a complete strategy for a single map (including points of interest and heat maps) as well as top 10 tips from pro gamers.
GameStop: "The Divide", an exclusive collectible Titanfall poster.
Walmart: a "First To Fall" tactical patch designed by Respawn.
Microsoft Store: a $10 digital Xbox gift card.
Best Buy: $10 in reward certificates for My Best Buy members.
Collector's edition
You can also pre-order Titanfall in a Collector's Edition package. While it is not the most expensive special edition ever, at $250 MSRP it's definitely one of the pricier ones. Here's what you'll be getting for all that money (in addition to the game itself, of course):
A handcrafted 18″ Titan statue with diorama and LED lighting
Hardcover artbook with 190 pages of concept art
A schematic Atlas-class Titan poster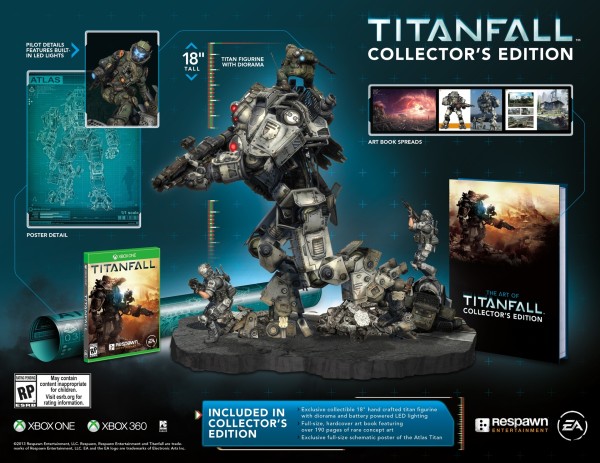 Angel City gameplay trailer
Angel City is one of the many maps that you'll be able to do battle in with your pilot and Titans come March. Take a sneak peek at it in this official gameplay video.
Titanfall is scheduled to be released on March 11, 2014 in North America.
Check out our other upcoming shooter games and upcoming pc games.