This game was released on October 28, 2016 and is no longer available to pre-order. Any incentives that were offered are listed below.
Titanfall 2 is a first-person shooter which, like its predecessor, is developed by Respawn Entertainment and published by EA. New to the game is a full-fledged single-player campaign, telling the story of a lone Militia rifleman stranded behind IMC enemy lines and teaming up with a with a veteran Vanguard-class titan against overwhelming odds.
As expected, most of the focus still remains on the multiplayer, where the developers are bringing six mech classes, improved customization, additional modes, and new pilot abilities including a grappling hook which adds extra mobility to the already fast-paced gameplay. There is also a new feature called Networks which aim is to provide an easy way to team up with friends for social or competitive play.
Pre-order bonuses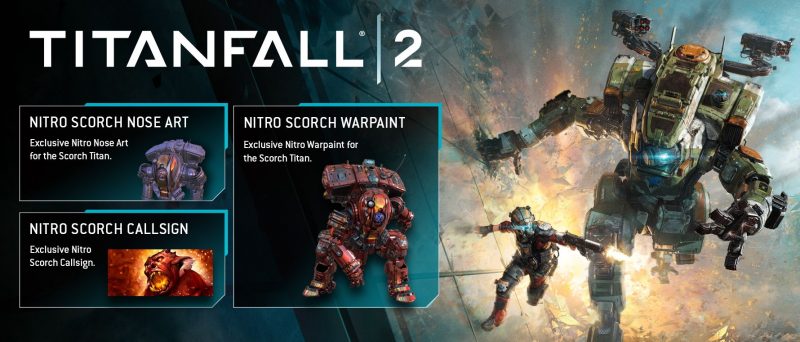 Pre-order Titanfall 2 anywhere to receive the Nitro Pack with Nitro Warpaint and Firebrand Nose Art for your Scorch Titan, as well as the unique GOLD| Beast Mode Callsign. You will also receive a 3-day early access to the remastered Angel City map when it releases this December.
Additional retailer and platform incentives are listed below:
GameStop: poster designed by Todd McFarlane (limited quantities)
Microsoft Store: $10 gift code
Xbox (digital): one month of EA Access
PlayStation (digital): Titanfall 2 Theme
There is also a Mountain Dew and Doritos promotion which lets you unlock extra DLC by purchasing specially-marked products. Walmart grants triple rewards in this promo, while Target is offering an exclusive skin.
Deluxe Edition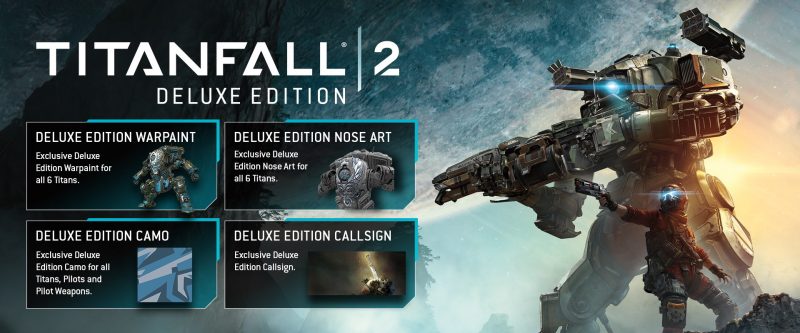 The Deluxe Edition retails for $80 and comes with a number of cosmetic DLC:
Six Deluxe-themed Warpaints and Nose Arts (one for each titan)
Two Camouflages that can be applied to every titan, Pilot and weapon
Exclusive Deluxe Call Sign
Ion Prime and Scorch Prime upgrades, available in December
Marauder Corps Collector's Edition (Series 1)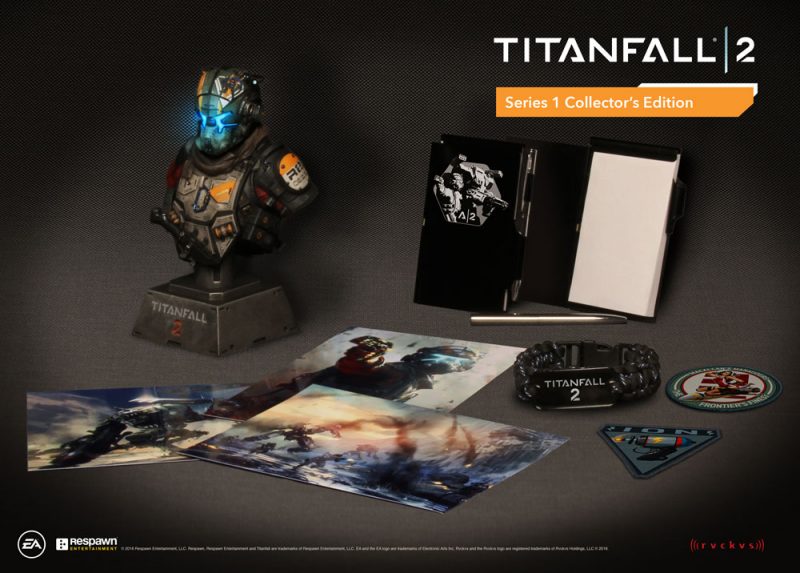 This CE is exclusive to GameStop and has Standard ($139.99) and Deluxe ($159.99) versions; the latter includes all the digital content from the aforementioned Deluxe Edition. Either version comes with the same physical goodies, however:
7″ Illuminated Pilot Bust
Pilot SRS Field Journal
Exclusive Fine Art Mini-Prints
Paracord Survival Bracelet
Squad Morale Patches
Vanguard SRS Collector's Edition (Series 2)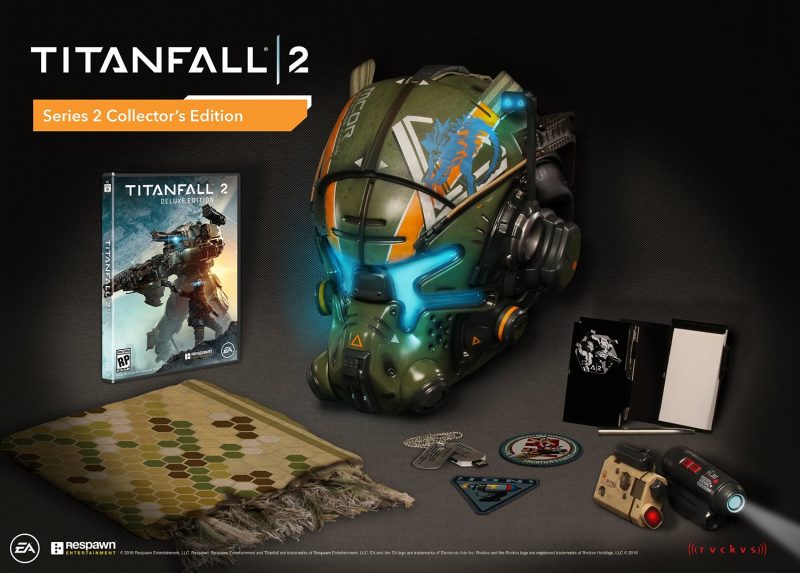 The second CE is known as the Vanguard Edition and is priced at $250. Unlike the previous one, this edition only has a one version which includes the Deluxe Edition of Titanfall 2, as well as these collectibles:
Vanguard Pilot Helmet Replica and Tactical Helmet Accessories
8GB Dog Tag Flash Drive
Pilot SRS Field Journal
Squad Morale Patches and Vanguard Shemagh Scarf
At the time of writing, this edition was only listed on Amazon and Best Buy.
Multiplayer Gameplay trailer
See the new grappling hook in action in this multiplayer trailer:
Titanfall 2 is scheduled to be released on October 28, 2016 for current-gen consoles and Windows.
Check out our other upcoming shooter games and upcoming pc games.