This game was released on September 28, 2017 and is no longer available to pre-order. Any incentives that were offered are listed below.
Total War: Warhammer II is a fantasy-themed strategy game which combines turn-based resource management and army deployment with real-time battles. It is developed by Creative Assembly and published by Sega, and is the second installment in the planned trilogy.
According to the publisher, the game's campaign offers hundreds of hours of gameplay. The overarching storyline focuses on the struggle between the High Elves, the Dark Elves, the Lizardmen, and the Skaven to control the weakening Great Vortex over Ulthuan, and use it to their ends.
Pre-order Bonuses
Pre-purchase the game or buy it within the first week after launch to receive the Norsca Race DLC for the original Total War: Warhammer. The Norsca Race Pack adds two new factions led by either Wulfrik The Wanderer or Throgg, King of the Trolls, and will become playable in the first installment of the series on August 10, well ahead of the release of Total War: Warhammer II.
Here's what the official website has to say about the Norsca, as well as a cinematic trailer:
Norsca: a barren, inhospitable peninsula to the north of the Old World. Here dwell ferocious tribes of warriors, hardened by the relentless blizzards, the icy tundra and the monstrous denizens of this accursed land. Fanatical servants of the dark gods, they will stop at nothing to prove their primal might, in a relentless hunt for worthy foes and fresh raiding grounds.
As for how this ties in with the upcoming Total War: Warhammer II – there will be a free update shortly after launch which will allow owners of both Warhammer and Warhammer II to play a gigantic combined campaign map using any race they own, whether from the base games or DLC.
Serpent God Edition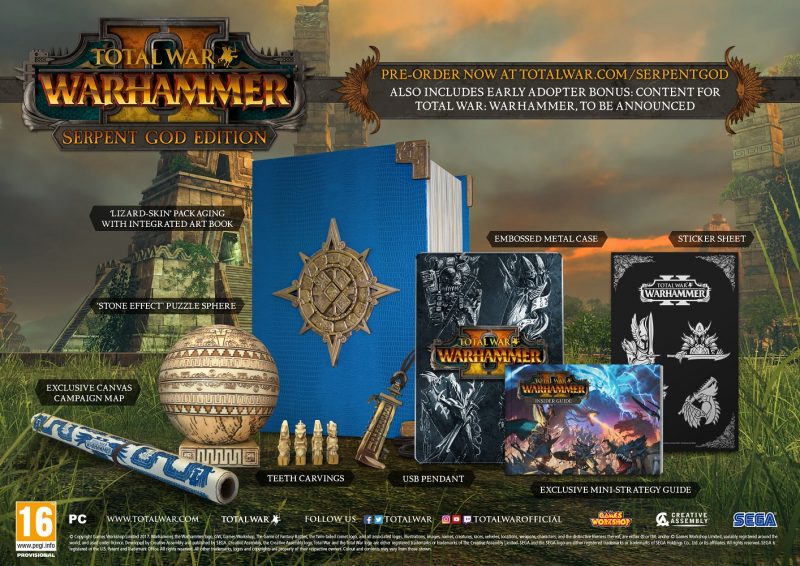 The Collector's Edition costs $149, and comes with all of the following:
Serpent God "Lizard Skin" Tome Packaging
Integrated Art Book
Embossed Metal Case
Exclusive Strategy Guide
Sticker Sheet
Canvas Map with Exclusive Lizardmen Artwork
Stone Effect "Puzzle Sphere"
Carved Bone Effect "Teeth" Totems
"Saurus Blade" USB with Black Library e-Books
Total War: Warhammer II is scheduled to launch on September 28, 2017 worldwide.
Check out our other upcoming strategy games and upcoming pc games.