This game was released on September 25, 2018 and is no longer available to pre-order. Any incentives that were offered are listed below.
Valkyria Chronicles 4 is a tactical RPG developed and published by Sega. Already out in Japan since March this year, the game will see a Western release on all major platforms.
Valkyria Chronicles 4 is set in Europa, a fictional region based on Europe during World War II, and follows Federation's Squad E lead by the young and eager Commander Claude Wallace. Alongside his comrades, he battles the imperial soldiers as well as the terrifying Valkyria.
Pre-order Bonuses
Reserving a copy of Valkyria Chronicles 4 or purchasing it on release day gets you upgraded to the Launch Edition which comes with a free Ragnarok controller skin. This bonus is available for every platform save PC.
GameStop: exclusive Ragnarok hat.
Newegg: $10 discount after adding to cart.
Memoirs From Battle Edition ($99.99)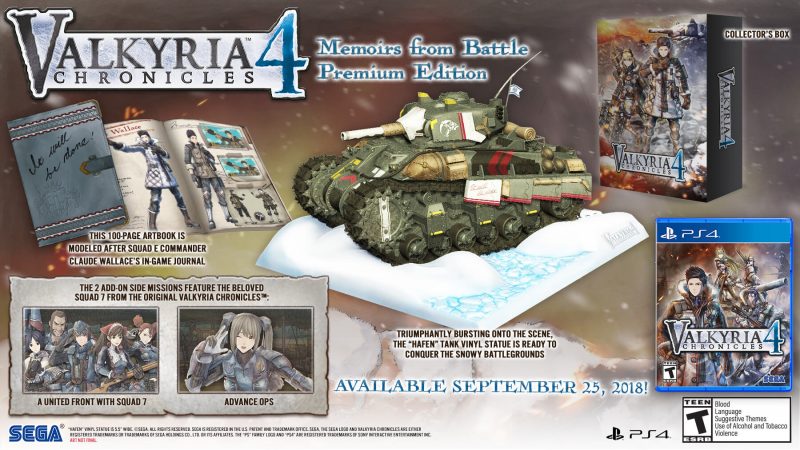 The "Memoirs From Battle" Premium Edition comes with the following extras on top of the base game:
Collector's packaging
100-page art book styled after Claude Wallace's journal
Vinyl "Hafen" tank replica
Two side missions featuring Squad 7 from the original Valkyria Chronicles
Valkyria Chronicles 4 will be out on September 25, 2018, for PlayStation 4, Xbox One, Nintendo Switch, and PC via Steam.
Check out our other upcoming rpg games and upcoming nintendo switch games.