This game was released on June 27, 2017 and is no longer available to pre-order. Any incentives that were offered are listed below.
Valkyria Revolution is an action RPG developed by Media.Vision and published by Sega. A spin-off of the main Valkyria Chronicles series, the game shares similar themes but takes place in a different universe, portraying war between two vastly different nations during the European industrial revolution. The battle system is also changed from a turn-based to a hybrid one, with faster-paced, real-time combat.
Valkyria Revolution comes with dual audio, so the players can choose between the original Japanese voice acting and the new English dub. The game's soundtrack is composed by the acclaimed Yasunori Mitsuda.
Pre-order bonuses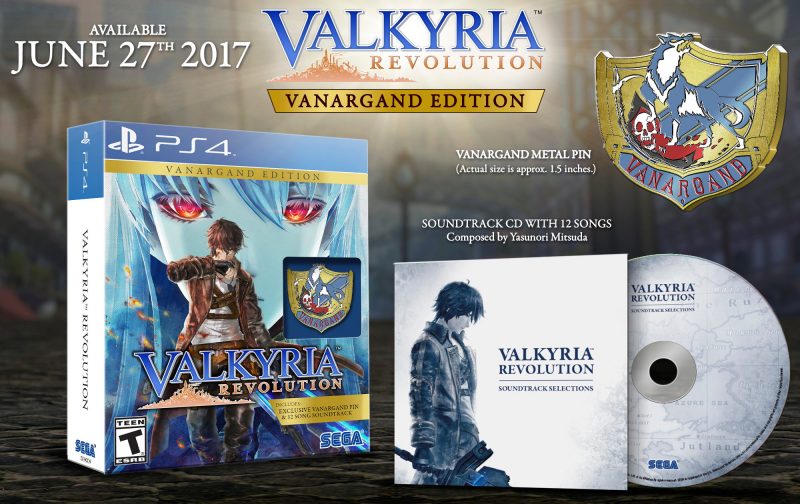 Pre-order or pick up a first-run copy of Valkyria Revolution to receive the Vanargand Edition depicted above (not available for PS Vita, which is only getting a digital release in the West). The following extras are included in addition to the base game:
Special outer box
Metal pin inscribed with Vanargand's coat of arms
12-track soundtrack CD by Yasunori Mitsuda (Chrono Trigger, Stella Glow)
Meanwhile, digital pre-orders on PlayStation Store will receive a static "The Princess and the Valkyria" Theme, and digital pre-orders on all platforms will come with additional DLC:
"The Formation of Vanargand" Scenario
"The Ring of Contract" Scenario
30 Ragnite Shards
Special Ragnite:

Time Flux+
Heal Field+
Fall Earth+
Shine Calibur+
The game is scheduled to launch on June 27, 2017 in North America.
Check out our other upcoming action games and upcoming playstation 4 games.