This game was released on June 04, 2019 and is no longer available to pre-order. Any incentives that were offered are listed below.
Warhammer: Chaosbane is a hack-and-slash action RPG developed by Eko Software and published by Bigben Interactive in association with Games Workshop. Like the name suggests, it is set in the Warhammer Fantasy universe. As the Empire of Man recovers from the Great War Against Chaos, a new threat to the fragile peace emerges; it falls to the player to gather allies and battle the hordes of Chaos across the Old World.
While the game can be tackled solo, it is designed from the ground up for cooperative play with up to four players, corresponding to the four available character classes. Both online and local multiplayer are supported.
Chaosbane also offers additional game modes such as boss rush, over 180 different abilities, over 70 monsters, and iconic locations as well as powerful artifacts of the Old World.
Pre-order Bonuses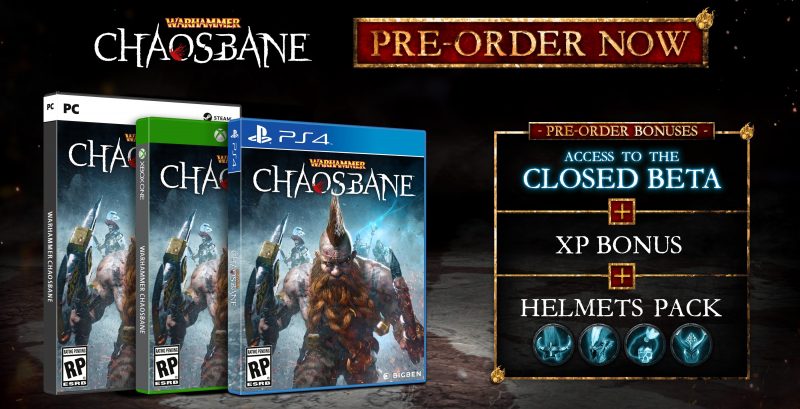 Pre-order the standard edition of Warhammer: Chaosbane ($59.99 for consoles, $49.99 for PC) to receive the following bonuses:
Closed beta access (two beta phases to take place in March & April)
XP boost (active for the entirety of the character's progression)
A pack of 4 legendary helmets (purely cosmetic, one for each class):

The helmet of the Archmage of Yvresse
A Death's Heads helmet
The helmet of Ungrim Ironfist
A Wild Riders helmet
Additional benefit of 4-day early access is available by pre-ordering the Deluxe or Magnus editions outlined below.
Digital Deluxe Edition
The Digital Deluxe Edition is priced at $54.99 for the PC, and $64.99 for Xone and PS4. It adds the following content on top of the base game:
4-day early access (with pre-order)
Deluxe Pack:

Gold boost
4 unique character emotes
4 unique character pets
Naturally, the aforementioned pre-order bonuses are also included.
Magnus Edition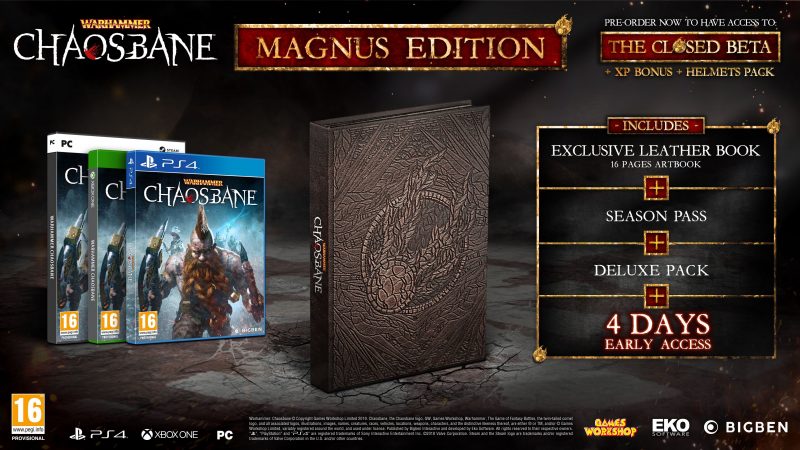 The Magnus Edition contains everything from the Deluxe Edition, plus the Season Pass and additional bonus content:
4-day early access (with pre-order)
Deluxe Pack
Base fragment boost
Season Pass:

An additional campaign chapter
A modified skill tree
New emotes
Several additional familiars

Leatherbook (retail version only)
The retail version of Magnus Edition (available directly from the official website at warhammer-chaosbane.com) will set you back $89.99. The digital versions are priced lower: $79.99 for the consoles, and $69.99 for the PC.
Warhammer: Chaosbane is scheduled to launch on June 4, 2019 for PlayStation 4, Xbox One, and PC via Steam. As said before, owners of the Digital Deluxe and Magnus editions get to start playing on May 31st.
Check out our other upcoming action games and upcoming pc games.