This game was released on November 15, 2016 and is no longer available to pre-order. Any incentives that were offered are listed below.
Watch Dogs 2 is an open-world action-adventure game developed by Ubisoft Montreal. The sequel features a new protagonist – a young hacker named Marcus Holloway – and takes place in a fictionalized version of San Francisco Bay Area.
Through the citywide ctOS system, Marcus can hack anything from vehicles to smartphones, and more. He is also equipped with tools like the quadcopter drone which can be used for scouting and remote hacking. The game supports different playstyles titled Stealth, Aggressor, and Trickster, and offers according items and upgrades for each.
Multiplayer is also making a return in the sequel, and it is more seamless than before. Players can meet up without leaving their single-player experience and cooperate to accomplish missions together, using basic emotes for communication. Besides the co-op, there also are separate, competitive multiplayer modes.
Pre-order bonuses
All Watch Dogs 2 pre-orders come with a bonus Zodiac Killer Mission. Players will be tasked with tracking down a copycat serial killer in Oakland who is leaving coded messages for the police. Successfully completing the mission grants an additional outfit.
And here are the retailer-exclusive incentives:
GameStop: exclusive pin set
Microsoft Store: $10 gift code
PlayStation Store: San Bruno Radio Tower Co-Op Location, Engineer Outfit, and ScoutXpedition Activity. Bitflip Suit Outfit for PlayStation Store Plus members.
Ubisoft has also launched a rewards program where you can earn points by performing activities such as subscribing to Ubisoft's Youtube channel, and then redeem them for in-game rewards and Watch Dogs 2 gear.
Finally, it should be noted that there's a platform-specific bonus for PlayStation. Owners of the PS4 version of the game will get to play future Mission Packs 30 days early.
Deluxe Edition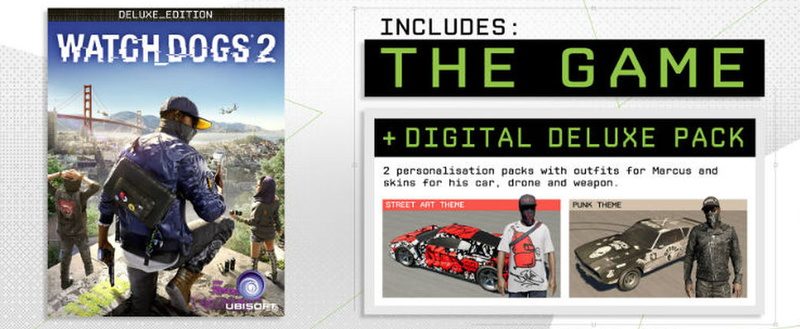 The Deluxe Edition bumps the price up to $70 and gives the players two Deluxe Packs to play around with. These include premium customization items used to personalize your character, weapons, vehicles, drones, and more.
Gold Edition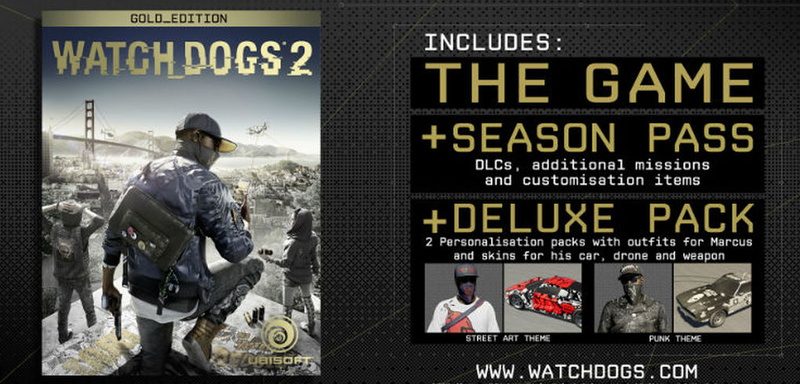 The Gold Edition also includes the two Deluxe Packs, and adds a Season Pass on top of that. The Pass grants access to future missions, customization items, and other DLC. This Watch Dogs 2 bundle retails for $100.
Collector's Edition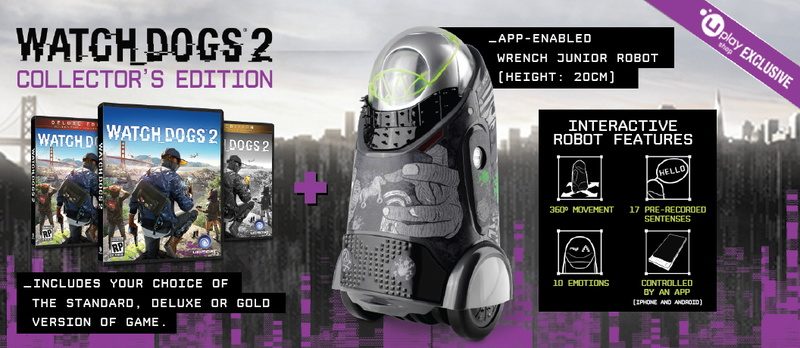 Exclusive to Uplay Shop, this edition comes with a 7.8″ tall "Wrench Junior" robot which can be controlled through a smartphone app. The price ranges from $110 to $150 as the robot can be paired up with any of the game's editions, resulting in "Collector's Edition", "Collector's Edition Deluxe", and "Collector's Edition Gold" bundles.
The release date of Watch Dogs 2 is set for November 15, 2016, save for the PC version which is coming two weeks later. The publisher has revealed that all upcoming DLC for the game will be timed PS4 exclusive, coming to Sony's platform 30 days before Xbox or PC.
Check out our other upcoming action games and upcoming pc games.