This game was released on August 10, 2018 and is no longer available to pre-order. Any incentives that were offered are listed below.
We Happy Few is a survival horror game developed by indie studio Compulsion Games and published by Gearbox. Taking place in a dystopian, retrofuturistic 1960s England, the game puts the player into the shoes of three "moderately terrible" people who seek to escape the fictional town of Wellington Wells and its perpetually drugged-out and cheerful inhabitants.
While originally intended as a small, Kickstarter-funded title, the game has since then grown in scope, and will now be getting a worldwide release digitally and through retail channels. The standard version will cost the usual $59.99, but pre-order customers will be getting $10 off that price – more on that after the jump.
Pre-order Bonuses
Pre-order We Happy Few from participating retailers or digitally to get a 15% or $10 discount as well as the Jolly Brolly parasol weapon. There also are some additional bonuses if you pre-purchase digitally:
Xbox & Steam: get instant access to the game's alpha version through Game Preview / Early Access.
PSN: We Happy Few Dynamic Theme.
Those who already own the Steam Early Access or Xbox Game Preview version, as well as Tier 1 Kickstarter Backers, will receive the standard version and the Jolly Brolly weapon for free.
Deluxe Edition
The Deluxe Edition of We Happy Few costs $79.99 ($67.99 after pre-order discount) and bundles the base game with a Season Pass. The Pass grants access to three future adventures that will follow the antics of one of Wellington Wells' most notorious residents. Tier 2 through 9 Kickstarter Backers will receive this version for free.
Collector's Set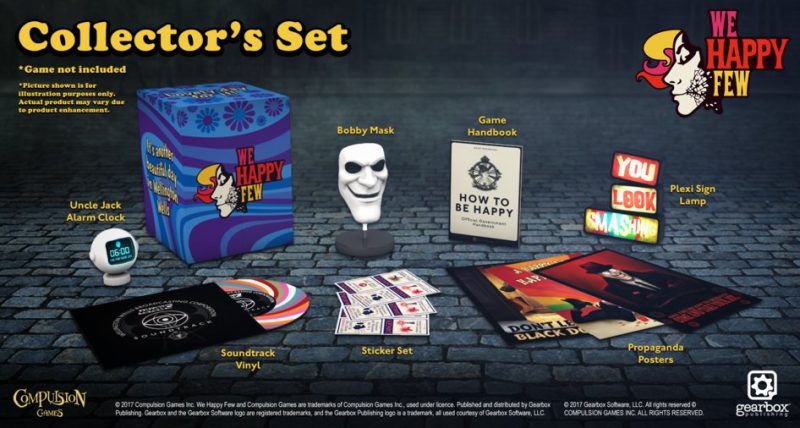 Last but not least is the $149.99 Collector's Set, which comes with a number of physical goodies (do take note that the game itself is not included and will have to be purchased separately):
Collector's Box
Uncle Jack Alarm Clock
Bobby Mask Replica
Game Handbook
Plexiglass Sign Lamp "You Look Smashing"
Soundtrack Vinyl
Sticker Set
Propaganda Posters
Tier 10 and higher Kickstarter Backers will receive the set as well as the aforementioned Deluxe Edition.
Following a delay, We Happy Few is now scheduled to be fully released on August 10, 2018.
Check out our other upcoming action games and upcoming pc games.